It's-a-me, Shinzo! Rio 2016 Olympics closing ceremony sees Japanese PM don Super Mario cosplay
Watch Shinzo Abe travel by warp pipe from Tokyo to Brazil's Maracana stadium.
The Rio 2016 Olympic Games came to a close in a spectacular, carnival-like display on 21 August, as the Olympic flag was passed from Brazil to the bustling Japanese capital of Tokyo for the 2020 Games. Obviously keen not to miss the festivities, Japanese Prime Minister Shinzo Abe made the 15,000-mile journey with a little help from a rather famous video game plumber.
In a brief animated video clip (embedded below) that celebrated Japan's cartoon heroes as much as it did its athletes, Abe was seen morphing into Nintendo's portly mascot, Super Mario. With a red ball in hand – symbolising the Japanese flag – Abe hopped into a green warp pipe handily delivered by the robotic cat Doraemon, one of Japan's most beloved manga and anime characters.
After hurtling at high speed through the centre of the Earth, Abe emerged out of a real warp pipe on the Rio 2016 stage, all while wearing Mario's iconic cap and overalls. The video also featured a brief appearance from retro gaming stalwart Pac-Man and Sanrio's ludicrously popular Hello Kitty character.
The display produced arguably the largest cheer of the ceremony, with global viewing figures on TV reportedly stretching into the billions. To officially mark the end of Rio 2016, Rio de Janeiro's mayor Eduardo Paes passed the flag to the president of the International Olympic Committee, before it was finally transferred to the recently-elected mayor of Toyko, Yuriko Koike.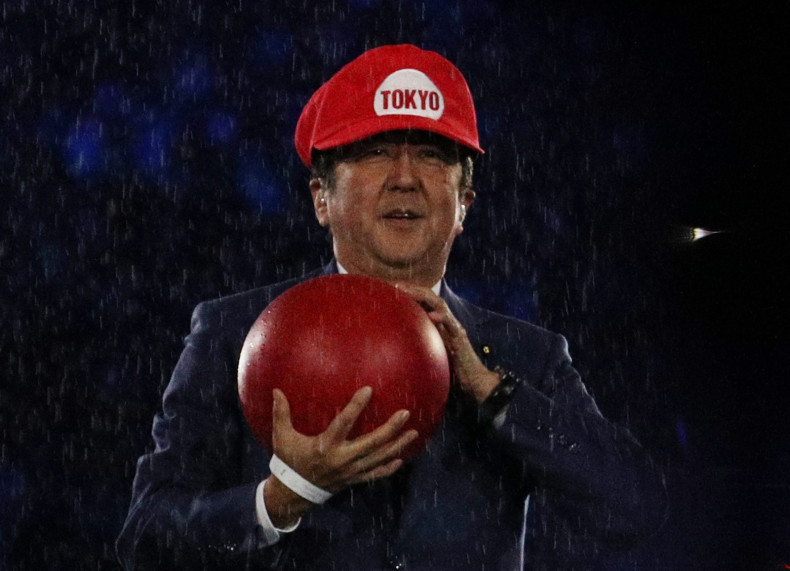 Social media largely celebrated the showcase, with some jokingly asking if Pokemon Go is on the cards as a competitive event at the 2020 Olympics. Nevertheless, after accusations of plagiarism surrounding the Tokyo 2020 logo, Japanese officials are likely to be buoyed by the positive reaction.
Expect to see more of Japan's premiere pop-culture and video game franchises when the Tokyo Summer Olympics Games officially opens on 24 July 2020.