The extended trailer for Sky Atlantic's upcoming papal drama The Young Pope was released at the 2016 Venice Film Festival prior to the premiere of the first two episodes of the show. Focusing on the first American to become the Pope — Lenny Belardo aka Pope Pius XIII, the show delves into the personal struggle of a man of God as he tries to come to terms with his past and lead the global Church.
Like many shows and films that have put the spotlight on the Catholic Church, there is concern that the show will stir up trouble. However, director and creator Paolo Sorrentino is confident that it's not a problem.
"It's a Vatican problem, not mine," he said during a press conference. "And it's not even a problem — if they're patient enough to see it up to the end, they will understand that we simply tried to tackle with curiosity and with honesty, without taking a provocative stance, to investigate the contradictions and the difficulties and the fascinating aspects of priests and nuns, and one who's somewhat different from the others: the pope."
The director goes on to explain that the character of Lenny was created to be a strong contradiction to the current pontiff, Pope Francis. We depicted him very differently from the existing pope, but it's something that might happen," he explained, according to The Hollywood Reporter. "It's possible that after a very liberal pope, there is someone that might have very different ideas. I think it's an illusion that the church has a long-term idea towards modernity."
On the show, Jude Law brings to life the character of the politically manipulative and conservative Pope. The actor explained that he is not worried about the public reactions to him taking on the role. "Paolo's emphasis was always that this was about a man, Lenny Belardo, the orphan who happened to be a pope," he said. "Once I started approaching it from that point of view and the history of this man and the relationships he has with all these people, it started to come together a lot more.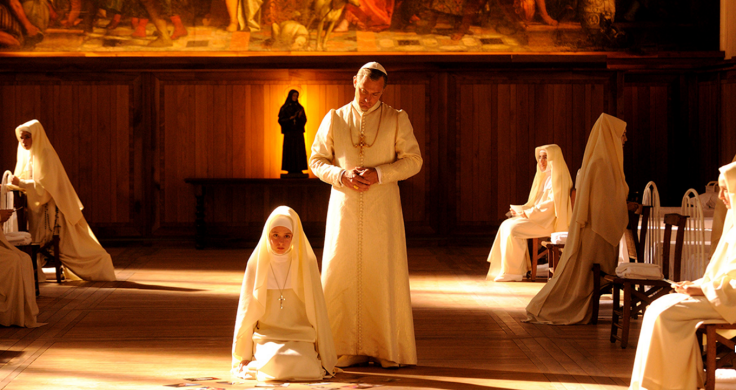 "It was almost as if the character Pope Pius XIII was a character that Lenny Belardo was playing. It was almost as if he was working out his own dilemmas and problems through his character. And it was only then that the pope I was playing started to make sense," Law added.
The Young Pope is produced by HBO, Sky and Canal Plus and will premiere on 21 October on Sky Atlantic in Italy, Germany and Austria and on 27 October in UK and Ireland.