Ivory Coast hotel: 12 people killed at attack on Southern Star hotel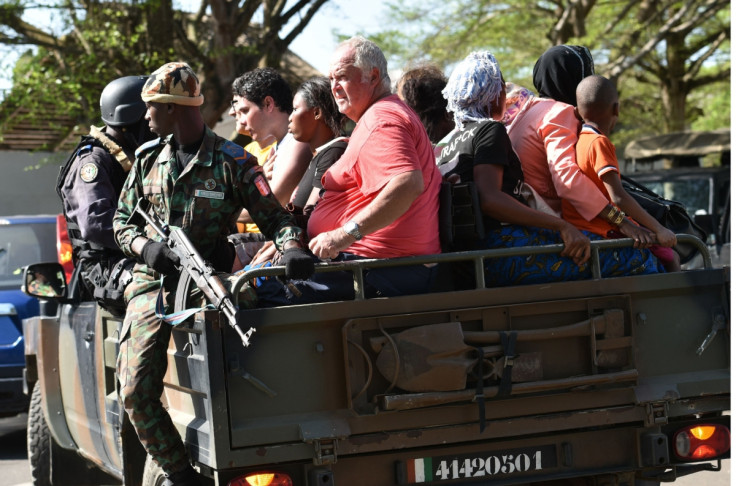 At least 12 people have died in a gun attack in Ivory Coast, at a beach resort popular with British tourists. Four Europeans were among the victims, according to reports.
The heavily armed assailants wearing balaclavas and armed with Kalashnikovs, opened fire at guests at the L'Etoile du Sud (Southern Star), according to a witness who spoke to AFP news agency.
The city is located about 40km (25 miles) east of the country's main city, Abidjan. Officials described the attack as "an act of terrorism". No militant group has so far claimed responsibility for the deadly assault.
In a televised address, Minister of State Hamed Bakayoko "neutralized six terrorists."
"Searches are being conducted," he added. "A detailed toll will be communicated in the coming hours."
Dramatic video footage shared on social media showed people running away from the beach to the sound of gunfire in the background.
Josiane Sekongo said shots rang out Sunday afternoon in Grand-Bassam, a popular weekend destination for Ivorians and foreigners. The 25-year-old, who lives across from one of the town's many beachfront hotels, said she ran outside when she heard the gunfire and saw people running away from the beach. She said residents were hiding in their homes as security forces responded.
According to CNN, a statement released by the Ivory Coast government said that gunmen had attacked two separate hotels. The statement also said the victims include five men, five women and one child, but did not specify if these reflected deaths or injuries.
Witness Luc Gnago told Sky News he had seen six bodies on the beach – one of which he thought was that of an assailant – and one in the hotel, which he described as "a white man".
"I arrived after the shooting. There are many soldiers around the beach and around the hotel," he said. "The beach is now empty. There are only a few people looking after the bodies."
In the past year, two countries bordering Ivory Coast – Mali and Burkina Faso – have witnessed attacks on hotels popular with Westerners.
The last elections in 2010 sparked five months of violence when former President Laurent Gbagbo refused to step down. More than 3,000 people were killed in some of the most brutal violence the country has ever seen.
President Ouattara has been accused of one-sided justice after hundreds of Gbagbo's supporters were imprisoned but very few from his side were even arrested – despite the UN and international human rights organisations saying both sides committed atrocities.
Images from the aftermath have started to emerge on social media showing the evacuation process and the police circling around what appears to be the discarded weaponry of the attackers.
© Copyright IBTimes 2023. All rights reserved.