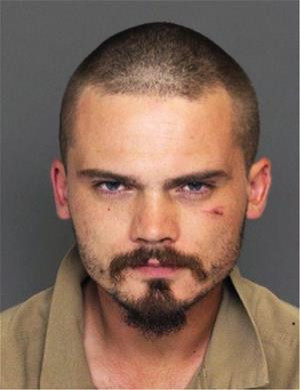 The actor who played the young Anakin Skywalker in Star Wars Episode 1: The Phantom Menace has been moved from a jail to a psychiatric facility for treatment of schizophrenia, his mother has revealed.
Jake Lloyd, 27, had been jailed for ten months. He was arrested in June 2105 after he led police on a wild car chase in South Carolina, and was charged with failing to stop for officers, resisting arrest, reckless driving and driving without a license.
A sheriff said at the time it was unclear why Lloyd tried to evade police and that he "didn't appear to be on drugs or intoxicated."
His mother, Lisa Riley, has insisted he needs treatment for the mental disorder and authorities finally agreed after a recent diagnosis, according to TMZ.
Shortly before his arrest, Riley said he had stopped taking medication to treat his schizophrenia and attacked her at her Indiana home, though she declined to press charges. She said he is not a violent person unless his illness is out of control. She said he first began exhibiting signs of schizophrenia when he was 19-years-old.
There is no word on how long he will be in the facility, but Riley said she can already tell that he is improving.
Lloyd, who has also used the name Jake Broadbent, played various roles as a child on TV and in film when he began acting, aged eight. His big break was nailing the role of Jamie Langston, n Jingle All the Way starring Arnold Schwarzenegger. He became known around the world when George Lucas chose him to play Anakin Skywalker, Luke Skywalker's father, in the first of three Star Wars prequels in 1999.
He also portrayed Anakin in a chain of related video games.
Lloyd retired from acting in 2001, blaming bullying by classmates and the stress of doing up to 60 daily interviews. He said in a 2012 interview that Star Wars fame turned his life into a "living hell," and that being in The Phantom Menace ruined his childhood and his career. He said he destroyed all of his Star Wars memorabilia in a fury.
"Other children were really mean to me," he said. "They would make the sound of the light saber every time they saw me. It was totally mad."
He did play one last role, however, in the 2005 sports drama Madison.