A Japanese broadcaster was forced to apologise after issuing an alert that incorrectly warned that North Korea had launched a ballistic missile against the country.
National broadcaster NHK sent the message by mistake on its app to smartphone users on Tuesday (16 January).
"NHK news alert," the message read. "North Korea likely to have launched missile. The government J alert: evacuate inside the building or underground."
The error was rectified within a few minutes and NHK apologised. "The news alert sent earlier about NK missile was a mistake. No government J alert was issued," it said.
The alert came on the same day that Canada and the US kicked off talks in Vancouver over the ongoing crisis in the Korean peninsula.
South Korea and Japan will take part in the talks but China, Pyongyang's largest trading partner, will not be represented.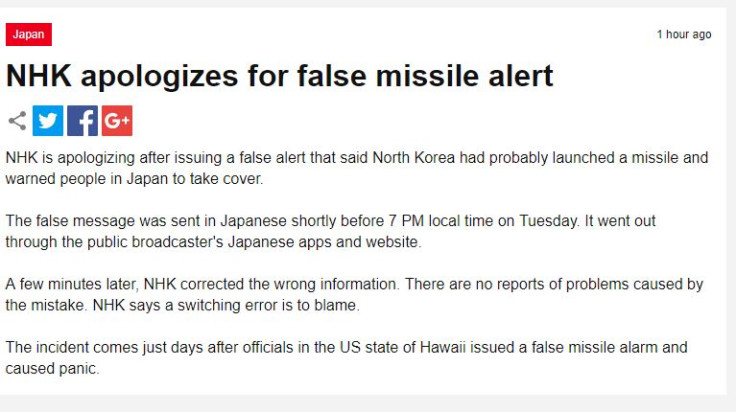 The talks are expected to focus on the possibility of implementing sanctions against North Korea, as well as the country's participation in next month's Winter Olympics in South Korea.
The false missile warning was the second in the space of a few days.
On Saturday, panic spread through Hawaii after a warning went out that the US island state was the target of a ballistic missile.
The emergency alert, sent to the phones of locals and tourists, carried the message, "Ballistic missile threat inbound to Hawaii. Seek immediate shelter. This is not a drill."
The alert, which was sent at 8.07am local time (6.07pm GMT), was reportedly accompanied by the sounding of sirens and was even relayed to a crowd during a football match.
It emerged that it was a false alarm. A retraction message was sent 38 minutes after the original warning.