Jennifer Aniston and Justin Theroux marry in secret ceremony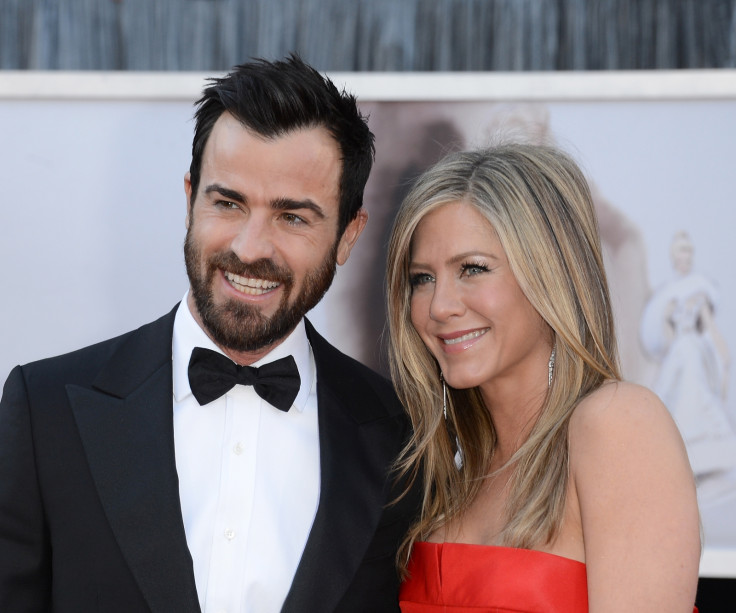 Jennifer Aniston and Justin Theroux have married.
The Hollywood couple are believed to have tied the knot in a secret ceremony at their $22m Bel Air mansion on Wednesday night (5 August).
TMZ have published photos from what appears to have been a wedding party, including a pastor arriving at the property carrying a bible and a cake being delivered with Muppets style toppers.
The couple's celebrity friends turned out en masse for the star-studded affair as Aniston walked down the aisle for the second time. Shock jock Howard Stern, Ellen DeGeneres, Chelsea Handler, Emily Blunt and Aniston's former Friends co-star Lisa Kudrow were among the guests photographed arriving at the mansion. It's not known whether any of Aniston's other Friends co-stars were in attendance.
The preparations for the intimate wedding were kept away from prying paparazzi with Aniston reportedly constructing a giant shed on her California estate where furniture and party supplies were stored ahead of the big day.
A wooden stage and dance floor were constructed and table settings to accommodate 74 guests.
Theroux, who turns 44 on August 10, proposed to Aniston, 46, on his birthday in August 2012.
At the time his spokesperson confirmed the news saying: "Justin Theroux had an amazing birthday on Friday, receiving an extraordinary gift when his girlfriend, Jennifer Aniston, accepted his proposal of marriage."
The pair began dating in May 2011 while filming the 2012 film Wanderlust, although they had previously met several years earlier.
In an interview with Australia's TV Week magazine, Theroux revealed that there was a lot of pressure from the public for them to get married.
"There is this hum of pressure that - I can't stress enough - I just don't pay any attention to," Theroux said. "But I am not going to let a tabloid tell me what to do ... I'm not going to watch them tap their watch. What the hell are you telling me to do?
"We're just doing our own thing. We are completely happy, obviously, but we're not on anyone else's timeframe," he added.
In February, Aniston told InStyle magazine that the couple had been discussing whether how they might pull off a secret ceremony.
She said: "There's a big discussion in our house right now: Do you just do it and say screw it? Or do you try desperately to get away with [a secret ceremony] where you don't have any fun because you're hiding in a cave somewhere?"
Aniston told the Associated Press that they already 'felt married'.
"We just want to do it when it's perfect, and we're not rushed, and no one is rushing from a job or rushing to a job And, you know, we already feel married."'
This is the first marriage for Theroux and the second for Aniston, who was previously married to Brad Pitt for five years from 2000 to 2005. She divorced Brad Pitt in October 2005. He went on to find love with Angelina Jolie after the two worked together on Mr and Mrs Smith.
Meanwhile, the newlyweds were spotted boarding a private jet on Thursday morning, presumably setting off on their honeymoon at an unknown location.
Representatives for Aniston and Theroux have not confirmed reports of their marriage.
© Copyright IBTimes 2023. All rights reserved.