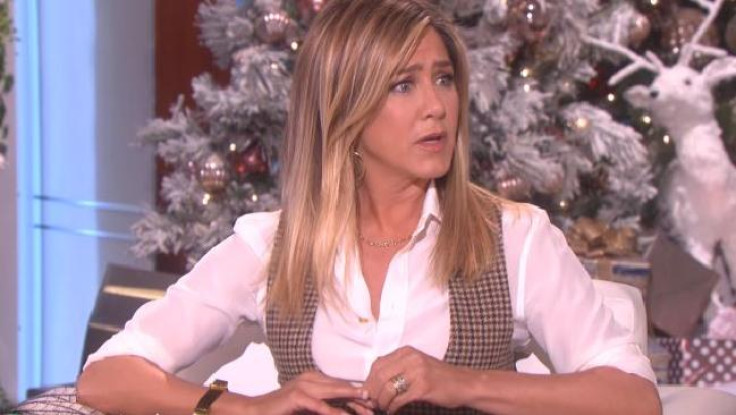 Thanks to her candid nature, Jennifer Aniston is fast becoming one of the most reliably entertaining chat show guests out there – and the actress certainly held nothing back in her recent appearance on The Ellen DeGeneres Show.
After her revelation about sex toys on The One Show recently, the Horrible Bosses star – who famously played a nymphomaniac in that film – confessed another sexual endeavour on the US chat show.
The Friends actress opened up to her good friend DeGeneres when subjected to a round of Never Have I Ever, and was asked whether she had joined the Mile High Club.
First reluctant to unveil her saucy secret to the world, Aniston kept up her 'I Have' placard when asked the very personal question. Furthermore, DeGeneres delved deeper and asked the actress whether she had done it in the cockpit. Aniston, despite not revealing who she did the deed with, revealed that the answer was a definite yes.
The host tried to ask Aniston whether it was the pilot, and also wondered if the Hollywood star did it while eating a bag of peanuts.
On more serious matters, Aniston opened up about the moment she decided to writer her famous public essay slamming persistent tabloid pregnancy rumours.
She claimed to have felt "pretty raw" following the death of her mother Nancy Dow and had just returned from a holiday with her husband Justin Theroux. She explained that they were hounded by paparazzi who believed the Friends star to be pregnant after pictures of her with "a bump with an arrow pointing to it" were published.
Speaking of the ordeal, she said: "We were mobbed, a scary kind of mobbed. We didn't know what was happening. I kept thinking, is Kim Kardashian behind me or something?"
"I was just fed up with it," she said. "And I think these tabloids... All of us need to take responsibility on what we ingest into our brains.
"Just because we're women: we have a uterus, we have a vagina, we have ovaries. We need to, like, 'Get to work [on having babies], lady!'
"We, as women, do a lot of incredible things in this world other than just procreate — and not that that is not ... We just get boxed in," she added.
The Marley and Me star went on to criticise tabloid media by claiming that female writers were most of the authors behind negative articles about her.
"Women, I have to say, are many of the authors of these horrible articles written in these BS tabloids so we have to stop listening to them and we have to stop buying them," she said to applause. She finished her thoughts by telling the audience: "It's up to us what makes us happy and fulfilled."