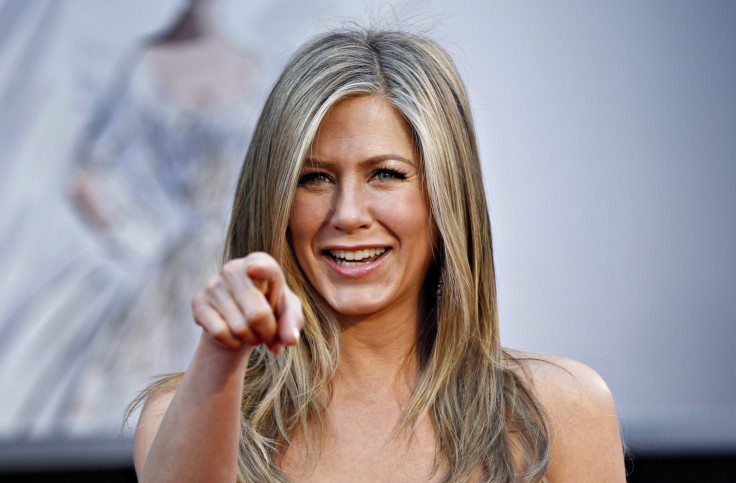 Friends star Jennifer Aniston made a shock confession on her recent appearance on The Ellen DeGeneres Show, admitting to having had sex in a cockpit of a plane – with a distracted pilot.
While playing 'Never have I ever' with the chat-show host, the 47-year-old actress did not directly allude to the identity of her mile-high partner in crime, however, the Horrible Bosses actress has had a few high-profile partners who would suit a pilot hat.
Although Aniston's husbands, Brad Pitt and Justin Theroux, both look like they could handle themselves in a cockpit – two of her previous lovers are also known to have 'mastered' the friendly skies.
After starring in 2010 romcom The Bounty Hunter with Gerard Butler, tongues started wagging that Aniston was dating her co-star. While the relationship was said to have lasted mere months, Butler has always shown an interest in flying and happens to have added 'pilot' to his CV lately...
The Hollywood heartthrob took to his personal Instagram account earlier this summer with a video showing him at the controls of a plane – in the cockpit, no less.
In the short clip, he said: "Hey guys, I'm just checking in from my summer holiday. It's been fun," he said. "And now I'm flying to surprise my friends on JetSmarter." Then, speaking as the camera panned down to his hands on the controls, Gerard said: "And when I say flying... I mean flying."
Butler also captioned the video: "Jet-setting with @LetsJetSmarter. Thanks for the ride! #sponsored #readyjetgo."
Intriguingly, Aniston's ex-husband Pitt has a pilot's licence and bought a veteran fighter plane in 2013 for £2m, which he was known to keep in a hangar in Somerset. Pitt has flown many different types of aircraft, but had to receive special training for his Spitfire. Could this solve the Aniston cock-PITT riddle?
Even more tellingly, recent ex-wife Angelina Jolie – who he left Aniston for – also has a pilot's licence, so perhaps the big reveal on Ellen's show was orchestrated to settle an aviation score.
Another one of Aniston's exes, Vince Vaughn, dated the star after their 2006 film The Break Up. In a hilarious scene – now immortalised as 'Airplane Scene' on YouTube – from the film Made, alongside Jon Favreau, he conversely expresses his knowledge of modern aerodynamics and etiquette. None of the scene was filmed inside the cockpit, however.
Aniston first dated current husband, Theroux, in 2011 after working together on the film Wanderlust. They purchased a home in Los Angeles' Bel-Air neighbourhood for approximately $22m before becoming engaged later that year and married on 5 August 2015 at their lavish estate. Although Theroux surprised her on Thanksgiving this year – flying home from Europe during year-long clashing schedules – it is unknown whether Theroux has any contact flight experience to implicate him in this cockpit conundrum.
Jennifer Aniston's high-flying romances