Supernatural's stars are back after a hiatus and have begun filming for the show's 12th season. Jensen Ackles and Misha Collins appeared live from the sets of Supernatural and gave fans a glimpse of Dean Winchester, Castiel and Impala.
Collins took over Supernatural's official Facebook account for a day. He sported the familiar trench coat, alongside Ackles, who looked sharp in a blue T-shirt and perfect Dean Winchester hair. Misha said, "We are here live on the set of Supernatural, beginning of season 12."
After some bantering between the two actors about the use of smileys, Misha revealed the first look at Impala aka Dean's baby, following which he cheekily added, "I think that might be a spoiler. over there". Ackles smiled and said, "That was probably."
After this, they are being called for a scene, as they end the video by promising fans they will be back soon to answer some fan questions.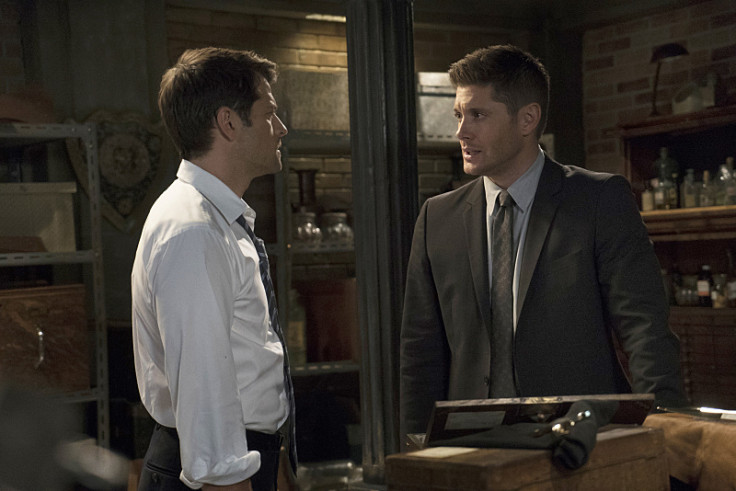 The Facebook post on the official site reads, "It's week 1 of season 12! I (Misha Collins) have hacked in and taken over this page. Jensen Ackles and I are here to answer your pressing questions from the set.
"BTW, while you are patiently waiting for the season to start, you might want to join SPN fans from over 100 countries who participate in my scavenger hunt. Registration closes this week, so it's your last chance!Www.JoinTheHunt2016.com," the post concluded.
Later Ackles and Collins cancelled the Q&A session following the terror attack in Nice, France. They posted another update on Facebook, which read, "Guys, we just heard about the tragedy in Nice, so sad. We won't be posting anymore from set today (we'll try to pick it up again next week.) We are thinking of you, France. And we hope this senseless brutality comes to an end soon. - Misha and Jensen"
Collins previously spoke to Nerdist about what is next in store for Castiel in Supernatural season 12. He said, "Season 12 is actually going to feel like we're getting back to the show's roots. It's going to feel a lot like earlier seasons of the show, which I'm excited about. And the same really goes for my character in particular."
The 41-year-old actor teased, "But it actually, as this season is unfolding, it feels like that is what's happening. Cas [Castiel] has got his mojo back. Finally. I'm so excited about that. I'm excited to see it unfold. I have a feeling that the fans won't be disappointed."
Supernatural season 12 premieres on 13 October on The CW network