Momentum, the pro-Jeremy Corbyn pressure group, has revealed how it helped Labour deny the Conservatives of a majority at the general election and humiliate the now lame duck Prime Minister Theresa May.
The 22,000-strong organisation, which was born out of Corbyn's successful leadership campaign in 2015, used social media-savvy techniques to engage with hundreds of thousands of mostly young people ahead of the 8 June vote.
Momentum believe that more than 100,000 people, or a fifth of the Labour membership, accessed its MyNearestMarginal website.
The initiative allowed activists, particularly first-time canvassers, to easily find battleground seats and campaign more effectively for Labour.
"During this campaign Momentum proved itself to be a powerful force which can help Labour win seats and increase majorities," said Emma Rees, a national organiser for Momentum.
"We're going to continue on a permanent election footing, ramp up our activity in newly marginal seats and embed the Labour Party in communities outside of election time."
The organisation, co-founded by former Tony Benn aide Jon Lansman, also held voter registration drives and large student operations on university campuses across the UK, including contacting 400,000 people with WhatsApp messages on election day.
Elsewhere, Momentum claimed to have reached 30% of UK Facebook users with viral videos. One video, "Daddy, why do you hate me?", has been viewed more than 7.6 million times on the social media site.
Labour's Jared O'Mara, who beat former Deputy Prime Minister Nick Clegg to become the newly elected MP for Sheffiled Hallam, said: "The contribution of Momentum members in South Yorkshire and beyond was exemplary. It was a blessing to have them on board campaigning to get me elected."
IBTimes UK visited Momentum's HQ, inside the offices of the TSSA transport union by London's Euston Train Station, ahead of the election. Momentum only had 10-full-time staff at the time, organising campaign weekends, phone canvassing events and social media - however events have proved they punched above their weight for the Labour Party.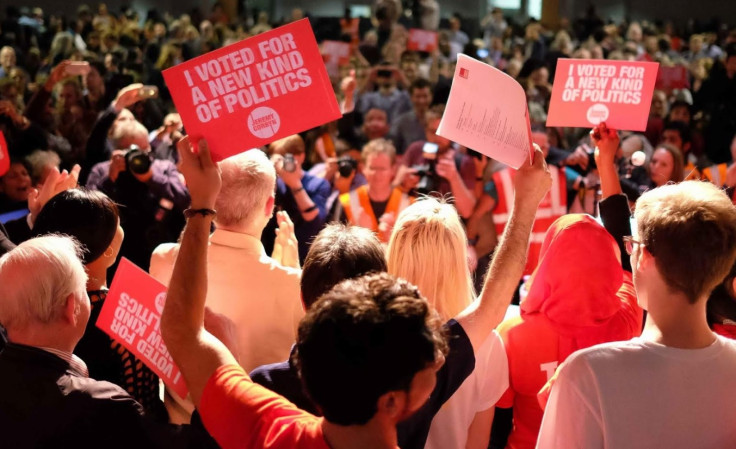 But the group has faced criticism in the past from inside Labour. Deputy leader Tom Watson even warned in March that the alliance between super-union Unite and Momentum could "destroy" Labour because of hard-left "entryism".
However, with Labour winning 33 extra seats and Corbyn increasing the party's vote share to 40%, the group may been seen in a different light after the election.