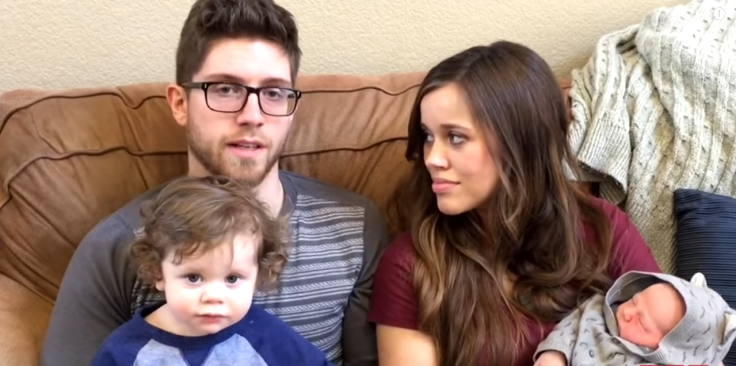 Jessa Duggar shared an adorable video of her two-year-old son Spurgeon, but a few social media users appeared to find something very wrong with it and started mum-shaming the reality star. In the video, young Spurgeon is seen holding a sipping bottle in one hand and a tissue paper in another.
In the clip, he pretends to sneeze while holding a tissue paper. "Every time he gets a hold of the box of tissues," his proud mother captioned the video. However, many chose to ignore how cute the boy's antics looked and started slamming the Counting On star for still keeping her son on the bottle.
"When r u gonna ween him off the bottle @jessaseewald!? U don't him to bad teeth from being on the bottle too long? Usually, kids r Weened off at 1?" one of her followers said. Another advised: "Better get him switched to a sippy cup." One Instagram user went on to advise Jessa to even potty train her toddler. "At 2yrs old he should be potty trained and drinking out of a sippy cup, not a baby bottle."
However, the former 19 Kids And Counting star did manage to get support from other mothers who defended Spurgeon's bottle habit. "Everyone parents their own way...None of my boys were potty trained at 2 and at 23, 20 and 18 they are just fine today. Not all kids fit in the same box. Why be so negative about a cute post," one follower said in defence of Jessa.
"I could watch this over and over. He is so adorable! This video brings a smile to my face. Thanks for sharing," added another.
The Duggar family came in for heavy criticism after their eldest son Josh's sexual abuse and cheating scandal went public. However, even critics of the evangelical Christian family were very fond of Jessa.
Constant criticism on her parenting skills, however, has forced Jessa to slam her trolls.
"That's my boy! Yes, he's 22 months old. Yes, he drinks water from a sippy cup, and yes, he still prefers to drink much of his milk/kefir from his bottle--especially before nap/bedtime. (TBH, I wish he wouldn't have weaned himself early, and would've bf till 2. There, I said it," she said in the caption of a photo where little Spurgeon is seen sitting on a chair sipping from a bottle while all suited up for his uncle Joseph's wedding.
"So there ya have it. If you are experiencing anxiety over this, please share all your wisdom and perfect parenting advice in the comments section below," she added.