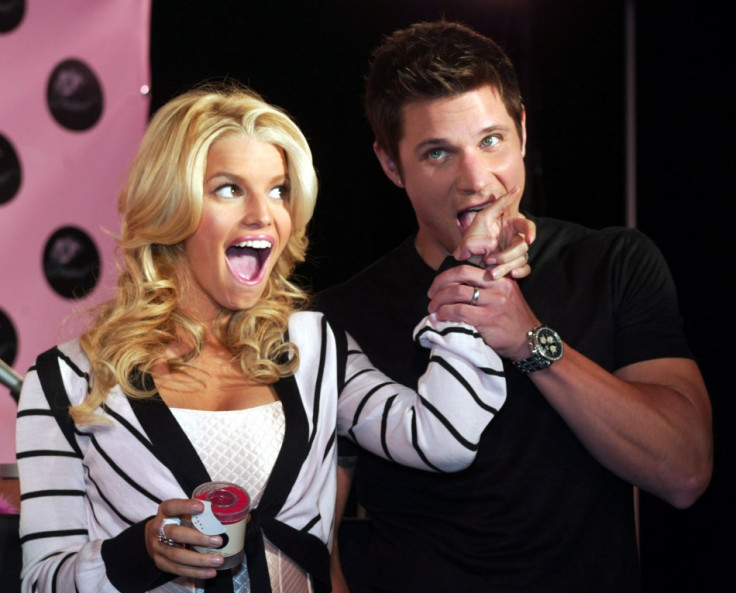 It's rare that exes have good things to say about their former partners and it seems that Jessica Simpson is no exception. The pop star turned business woman has made a shocking admission about her marriage to Nick Lachey.
During a recent interview with Kelly Evans on CNBC's Closing Bell to celebrate the 10th anniversary of her clothing brand she suggested that their union left a dent in her account. When asked what she thought was her biggest financial mistake to date, the mother-of-two, who is worth an estimated $150m (£97m) replied: "The biggest money mistakes? I don't know. For some reason I thought of my first marriage!"
Simpson started dating Lachey in 1999 after meeting at Teen People event. After splitting briefly they got engaged in February 2002 and tied the knot in Austin, Texas eight months later. Shortly after their star-studded nuptials, Simpson revealed she had remained a virgin until her marriage.
The couple became household names after co-starring on a VH1 reality series Newlyweds: Nick and Jessica for three seasons. But it wasn't meant to be and cracks soon started showing in their marriage. In November 2005, the pair announced they were separating and Simpson filed for divorce citing "irreconcilable differences". Their divorce was finalized in June 2006.
She has since moved on and married retired NFL star Eric Johnson, with whom she has three-year-old daughter, Maxwell, and a two-year-old son named Ace. Lachey is now married to fashion model, and former Miss Teen USA Vanessa Minnillo.
Elsewhere in the interview, Simpson credited her business manager for helping her make better business decisions."My business manager [and I have] been together for 16 years now. He's one of the first people that I met coming into New York City, and I trust him with everything. We've made really great investments, we haven't really had any mistakes," she explained.
"I'm definitely a person that is all about taking a risk and everything to me is kind of a 'why not?'. I take an opportunity by the reins and just go for it...when we started, it was only shoes and now it's grown so big. I'm just counting my blessings."