Piers Morgan and JK Rowling have been embroiled in a pretty intense Twitter war since last week when the Harry Potter author joked about the Good Morning Britain host being told to "F**k off" during a guest appearance on the American TV show Real Time with Bill Maher. But now it looks like the two celebrities may have just completed their final bout, with Rowling throwing a knock-out punch.
On 14 February, the author tweeted a screen-shot of a flattering write-up about herself in which she is described as not one to "play any part of the celebrity game" yet has had "a greater impact on the world". In her caption she asked that the writer let her know who he was.
Morgan was quick to respond, calling the tweet "priceless #humblebrag BS".
"Nobody plays the celebrity game more abusively or ruthlessly than you, Ms 'Intensely Private Billionaire'," he wrote in a tweet of his own.
While he may have thought he won the round, the 51-year-old was unable to recognise that the "humblebrag" was written by him as part of a Daily Mail 2010 list of "the 100 British celebrities who really matter". Ouch!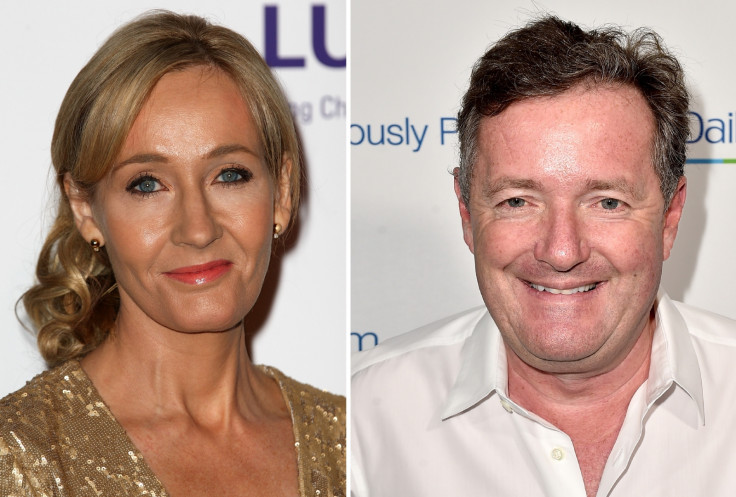 Fans of Rowling were ecstatic to make the connection and one Twitter user said the fact that Morgan did not realise he was slamming his own work, made this "the best day of my life". Obviously, the show host was not going to take this lying down, and responded to the user, calling him a "quarter-wit". "I knew what it was. Just surprised I put her as high as 97<sup>th," he said in defence of his earlier comments.
Rowling is yet to make her next move, but we presume that for now, she is simply enjoying imagining Morgan with egg on his face.