Since the release of Rolling Stone's imagery of Sean Penn's now infamous and ultimately damning meeting with drug lord Joaquin 'El Chapo' Guzman it has emerged that the world is now obsessed with the Mexican cartel leader's fashion sense.
On Wednesday (13 January) it was reported that sales of the shirt El Chapo wore for his controversial interview for Rolling Stone magazine were skyrocketing as people rushed to purchase the number for themselves. The design in question was a rather bold, striped cotton shirt with a decadent paisley-esque printed overlay that was purchased from an independent boutique in LA called Barabas, costing $128 (around £89).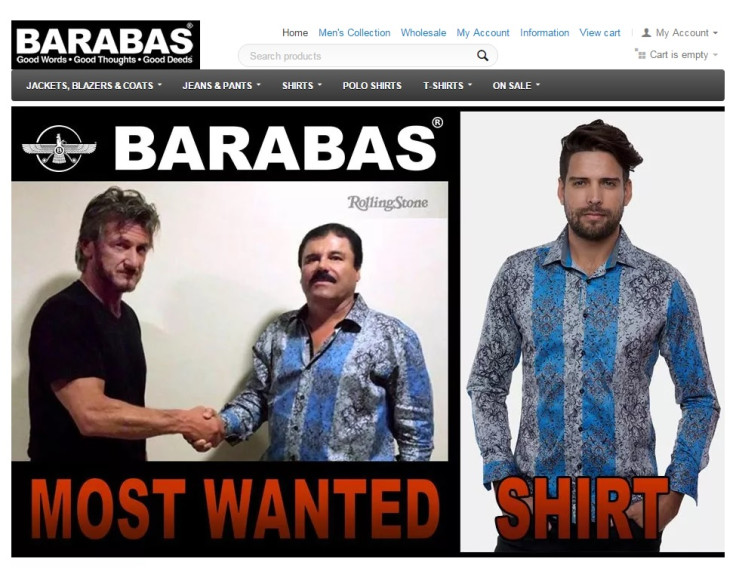 Running with the idea that all publicity is good is good publicity, Barabas have used the media storm to redesign their website homepage with the phrase 'Most Wanted...shirt' blaring across the image of Penn and El Chapo with an in-store image of shirt neatly placed alongside. Interestingly this line sits just below the store's motto 'good words, good thoughts, good deeds' which is rather stark departure from the actions of their new poster boy.
Unsurprisingly the site sold out of the drug lord's particular favourite, which rather hilariously is called 'Fantasy', but is taking back orders with delivery dates as late as May 2016, although the question remains; why anyone would want to dress like him?
The first assumption must be that it will become a collector's item, an emblem of sartorial memorabilia that can be kept like a 'I remember when'. The paisley design may have no influence upon the shopper's interest in owning the shirt which could make Barabas' back orders akin to opening a drug cartel gift shop of sorts where you can watch the interview then buy the look. Although so far only one person has taken to Ebay to put up any 'official' Chapo merchandise up for sale.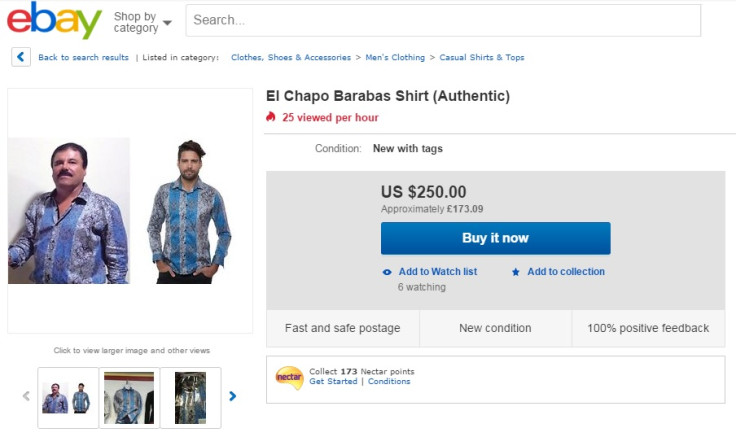 Perhaps one might associate the the clothing with power, as Mark Twain said, 'Clothes maketh the man' after all and El Chapo would never be seen in the dwindling nude palette of a regular fashion follower.
The bold print is arrogant and confident and certainly not the attire you would assume to be worn by someone in hiding. Leaving behind the gun holsters and innumerable kilos of drugs in your warehouse, what could be wrong with garnering a little extra attention with a vibrant new shirt as endorsed by Mexico's most famous cartel owner?
Shawn and Sam Esteghbal, the owners and designers at Barabas, told CNN Espanol "People just always look for something unique, and they're probably thinking this is unique because that guy wears it. He could wear a $10,000 shirt or a $3,000 shirt, but he wears Barabas" and they could be onto something too.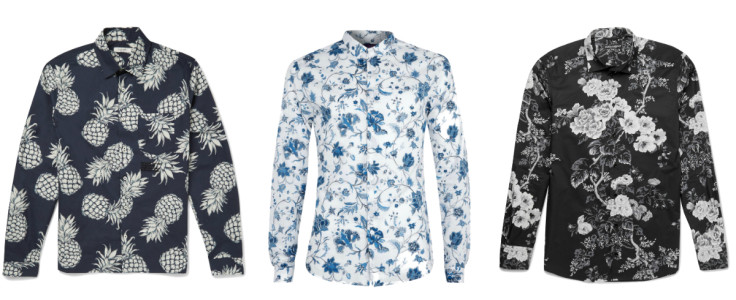 While Sean Penn's black T-shirt is most likely a high quality cotton design by the likes of James Perse or even Rick Owens, it could also easily be from anywhere. Guzman's on the other hand is a far more daring choice and very much line with the ethos of Dolce and Gabbana, Valentino and Topman Premium that have added more eccentric elements into their latest offerings. Obviously we are not aligning these brands with Guzman but it does make for an interesting case in favour of buying outside of your comfort zone regardless of your interest in the headlines. Of course if Chapo himself had associate himself more with the slogan's of his own choice of fashion brand with a few more 'good words, good thoughts, good deeds' he probably would have fared a great deal better also.