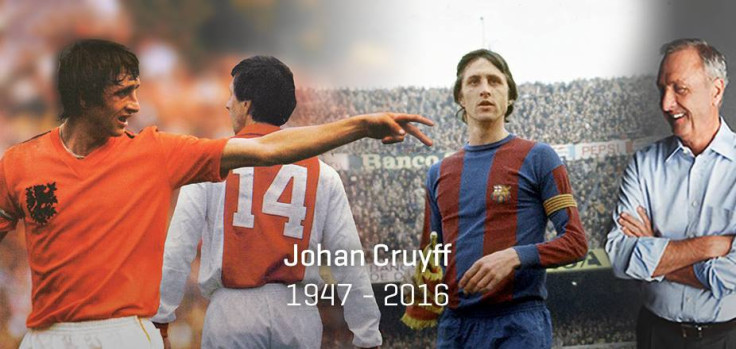 Football legend Johan Cruyff died on Thursday (24 March 2016) at the age of 68. According to his family, he "died peacefully in Barcelona, surrounded by his family after a hard-fought battle with cancer".
Much more than just a football player, Cruyff is also remembered as a coach, sports ambassador and philanthropist. The Amsterdam-born icon is seen as a key part of Dutch culture and heritage.
Flags at the training ground of Ajax Amsterdam, the football club that played a crucial role in Cruyff's legendary career, were put at half-mast. He started in Amsterdam as a 10 year old, kicked off his life in professional football in the city, and returned there as both a player and manager.
In another sign of mourning and respect, someone has already left a bunch of daffodils in front of the house that Cruijff grew up in, situated in Betondorp on the outskirts of Amsterdam, as pictured below on Twitter.
The King of the Netherlands took to Facebook to express his sadness and disbelief. "With the passing of Johan Cruyff, the Netherlands has lost a unique and genius sports man," King Willem-Alexander said. "He has enriched our football .... He has also poured his heart and soul into his goal to make the sport accessible to everything"
"He was an icon of the Netherlands. Johan Cruyff was all of ours. My wife and I sympathise with his family and friends on this sad day."
Footballer siblings Frank and Ronald de Boer also shared their grief on Twitter. The Dutch tycoons were among many to commemorate Cruyff's famed #14 shirt number. The former professionals thanked the "biggest football player ever" for his legacy.
Among the politicians mourning Cruyff's death was sports minister Edith Schipper, who worked closely with him over the last few years: together they established the first sports council to advice the cabinet.
"We knew of course that he was ill, but I did not expect this. I did not even think about it, that he would die so quickly," Schipper told reporters. "We have lost the best football player in history, an icon not just in the Netherlands, but famous across the world."
Cruijff became well known for his philanthropic work after his football career ended, setting up Cruijff Courts across the Netherlands and abroad to offer children from poorer areas a chance to play football and go outside.