Zoella's boyfriend Alfie Deyes wears her knickers in support of vlogger's Snapchat photo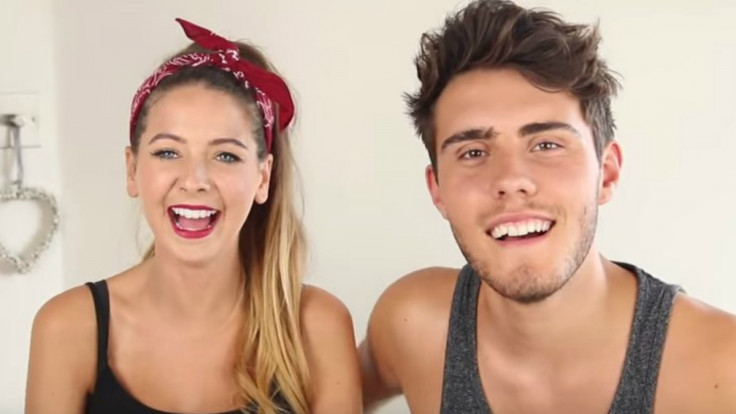 Alfie Deyes has proved himself to be the most supportive boyfriend to vlogger Zoella. After she sparked outrage by exposing her underwear in a Snapchat photo, Deyes, also known as Pointless Blog, wore a pair of her knickers as a show of loyalty and shared it with the masses on Twitter.
Zoella, real name Zoe Sugg, angered some of her followers by sharing an image of herself on Snapchat with her Calvin Klein underwear on display while lounging in bed. The YouTube star defended herself against the critics but her boyfriend and fellow vlogger Deyes, 22, has perhaps made the biggest statement. As fans began trending the hashtag #WeStandWithZoe, Deyes chimed in with his own picture, writing: "Wearing Zoe's knickers for this one #WeStandWithZoe."
It seems the move had a positive impact on Deyes' on YouTube channel as he promptly passed the five million subscriber mark, telling his Twitter followers: "Wait I've just hit 5,000,000 subscribers & the first thing I tweet is a picture of me in @Zoella's knickers." Zoella later joked: "Can I let you in on a little secret? @PointlessBlog is STILL WEARING MY KNICKERS."
Although Deyes had the privilege of wearing Zoella's actual knickers, he was not the only male vlogger showing support for his girlfriend. Chai Cameron shared an image of himself squatting in a pair of boxers while JakeBoys stripped down to his underwear and a red lacy bra as a kind gesture.
Defending her original image, Zoella hit out at critics via Twitter, writing: "Bloody morons. Writing about my PJ's when there are SERIOUS things happening all over the world. SMH. I think i've shown more in a legs bath pic! Haha."
Clearly overwhelmed with the show of support from fans, the vlogger, who has more than 10 million subscribers to her YouTube channel, also tweeted: "Brimming with love at all your support. The world is full of amazing people. I hope one day we will live in a world where promoting self love & body confidence won't be sexualised or shamed."
© Copyright IBTimes 2023. All rights reserved.