John Kavanagh: Tony Ferguson has a 'great chin' but lacks Conor McGregor's technique to strike with him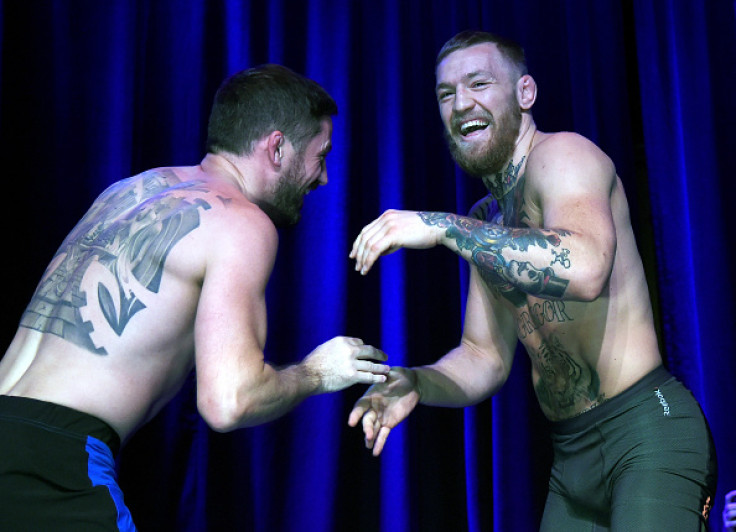 KEY POINTS
McGregor and Ferguson were due to clash but it never came to fruition.
"El Cucuy" will now face Khabib Nurmagomedov at UFC 223 for the lightweight title.
McGregor could face the winner if he plans on making a return to MMA.
Straight Blast Gym head coach John Kavanagh predicts Tony Ferguson will take the fight to the ground if he were to face Conor McGregor.
Following his win over Kevin Lee at UFC 216 to win the interim lightweight title, Ferguson was expected to face McGregor in a title unification fight upon the latter's return from his boxing ventures.
However, it never came to fruition with UFC president Dana White later revealing that the Irishman was only planning a September comeback.
Instead, "El Cucuy" will face Khabib Nurmagomedov at UFC 223 on 7 April seemingly for the lightweight title with White hinting at the Irishman getting stripped of the belt, though nothing is official at this point.
Ferguson's striking coach, Rashad Holloway, recently claimed McGregor, rated as one of the best strikers in the division, would not be able to strike with the 34-year-old if they were to meet.
However, McGregor's coach in Kavanagh believes it's the opposite as he would be "very surprised" if Ferguson, who excels in many areas, chose to trade with the Crumlin native on the feet.
"I'd be very, very surprised if Tony would engage in that," Kavanagh said, as per Express. "We saw in his last fight that he would throw himself on the ground for Iminari rolling leg locks, he'll do anything necessary to get it to the ground.
"Even Conor's most ardent hater would have to say if you're looking in his last two or three fights, he [Ferguson] does get hit a lot. His stand up is not Nate Diaz's."
Kavanagh, though, did praise the durability of Ferguson but added that the difference in technique will ultimately be exposed in McGregor's favour.
"He does have a great chin, I'll give him that," Kavanagh added. "He can take a hiding. [But] he would not have the technique or come close to the technique that Conor would have on the feet.
"So I can see him trying out the range early in the fight, but after a very, very short time realising he's out of his depth and then he'll try those Iminari leg locks. He will try anything to get it to the ground."