During the promotion of his new film The Forger, John Travolta has voiced his opinion on the controversial Scientology documentary Going Clear which originally aired on HBO back in March.
Speaking to the Tampa Bay Times, addressing his silence up until now, he said: "I haven't experienced anything that the hearsay has [claimed], so why would I communicate something that wasn't true for me?"
Despite refusing to watch the investigative film, directed by Academy award winner Alex Gibney, Travolta labelled the film as the product of ex-members "who were disgruntled with their experiences" of Scientology.
In his interview, the 61-year-old continued to say that the Church has helped him through many personal hardships including physical illness and losing his son Jett in 2009, and that he has "been so happy with [his] experience in the last 40 years".
"I've been brought through storms that were insurmountable," Travolta said, "and [Scientology has] been so beautiful for me, that I can't even imagine attacking it."
Regarding the other celebrity scientologist heavily featured in the short film, Travolta mentions his viewpoint as to why Mission Impossible star Tom Cruise may have declined to comment on the exposé so far. "It wouldn't make sense [for me], nor would it for Tom, I imagine, to say [anything] that would shed light on [a documentary] so decidedly negative."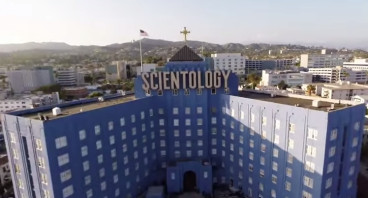 The film features many allegations as to the way the faith operates, suggesting that it often manipulated members into staying (Travolta included), by threatening to reveal their darkest secrets if they were to leave Scientology.
It also claims that the organisation ran "prison camps" where members would have to work 30 hours back-to-back, only interrupted by three hours of rest.
Other more unusual speculations include that the Church would have doubtful members play musical chairs set to Queen's Bohemian Rhapsody and those who were left without a seat were expelled from the religious collective.
In addition to Travolta airing his views on Going Clear, the Church has also responded with its thoughts on the Scientology-bashing documentary.
A statement from a Church official reads: "The Church has documented evidence that those featured in Gibney's film regurgitating their stale, discredited allegations are admitted perjurers, admitted liars and professional anti-Scientologists whose living depends on the filing of false claims." It goes on to state that "all have been gone so long from the Church they know nothing of it today."
"Gibney and HBO stonewalled more than a dozen requests by the Church to offer relevant information about them, with more than 25 individuals with first-hand information eager to speak," the statement continues.
Among the other famous faces commenting on the documentary is former That 70's Show star, Danny Masterson, who told E!Online: "I wonder if Sundance would allow a documentary of, like, eight people who hate Judaism. But you know, my religion's fair game, I guess, because it's new."
Celebrities mentioned in the documentary but that have yet to comment on the short film include Homeland's Nazanin Boniadi, Nicole Kidman and Tom Cruise.