Rights groups are urging Jordan to arrest Sudan's President Omar Al-Bashir, who is currently in the country to attend the Arab Summit. The leader is wanted by the International Criminal Court (ICC) for alleged war crimes and genocide charges.
Both Human Rights Watch and Amnesty International are calling on Jordan to arrest the leader and hand him over to the ICC.
Bashir is wanted for alleged crimes committed in Darfur, where at least 300,000 people have been killed since a conflict erupted in 2003.
The Sudanese President has always rejected the charges and refuses to stand trial as his country does not recognise the ICC's jurisdiction.
"Allowing al-Bashir's visit would also be a reversal of Jordan's historical support for the ICC," read a HRW statement.
Amnesty said: "As a signatory to the Rome Statute that set up the ICC, Jordan is obligated to arrest Omar Al-Bashir and hand him over to the court. The international community must not allow this to happen."
Jordan has not commented on the issue. The embassy of Jordan in London has not replied to a request for a comment.
In 2015, South Africa was strongly criticised for failing to arrest Bashir when he visited the country for an African Union (AU) summit. South Africa later announced it would leave the ICC on grounds of "incompatibility".
Last year, Sudan was accused of using chemical weapons against civilians in Darfur. The country is also accused of marginalising non-Arab populations in the Blue Nile and South Kordofan regions, where conflicts are ongoing.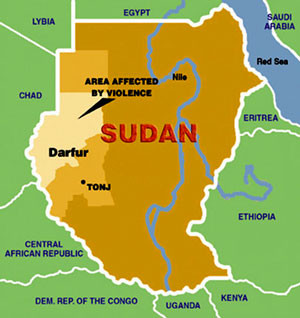 Darfur conflict
The war in Darfur started in February 2003 when the Sudan Liberation Movement/Army (SLM/A) and Justice and Equality Movement (JEM) rebel groups attacked the Sudanese government. The government, accused of marginalising the non-Arab population in Darfur, retaliated by carrying out ethnic cleansing of non-Arabs.
Tens of thousands were killed during the genocide. A ceasefire was signed seven years later, in February 2010. However, reports have warned that people are still being tortured, raped, persecuted and killed.
In March 2014, a report by the UN Office for the Coordination of Humanitarian Affairs (OCHA) said 55,000 people had been displaced from Saraf Omra, West Darfur, following fighting between "paramilitary troops and government forces". More than 50 villages were burned and 45,000 people displaced around Darfur. Russia and China were accused by Amnesty International of supplying arms to Sudan and therefore contributing to the massacre.
Read more about Darfur.