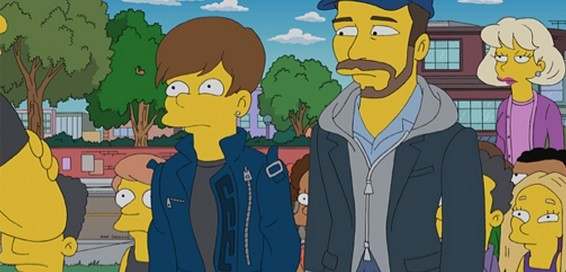 His wild behaviour has been making headlines in recent week, but it looks like Justin Bieber is finally turning things around.
The 19-year-old pop star is trading the scandals for some good wholesome family entertainment in a forthcoming episode of The Simpsons.
Fans of the Baby hitmaker have been given their first glimpse of their hero immortalised in yellow for his cameo appearance in the cartoon comedy.
He is set to appear in animated form in an episode entitled The Fabulous Faker Boys.
In the teaser image released by Fox, Bieber's yellow lookalike is shown with his trademark moptop hair and diamond ear studs. He wears a blue biker-style jacket as he stands alongside manager Scooter Braun.
Executive producer Al Jean has remained tight-lipped about the storyline only telling Entertainment Weekly: "He tries to get into a talent show that Bart is playing piano in and they won't admit him. Draw your own conclusions."
Bieber recorded the voice-over for his Springfield appearance in August.
He could not contain his excitement at the time and told his 38 million Twitter followers : "Just did a voice over for the Simpsons. #swaggy."
A broadcast date for the UK is yet to be confirmed.