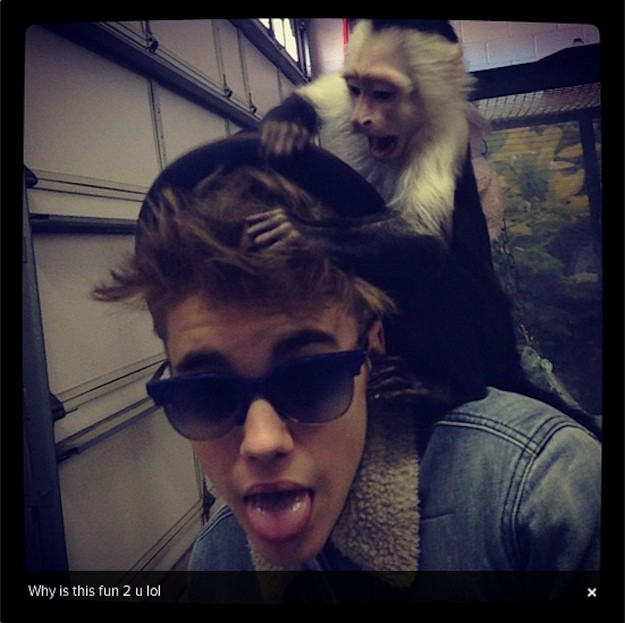 Pop heartthrob Justin Bieber is being pursued for thousands of pounds towards the cost of looking after a capuchin monkey he abandoned in Germany.
Mally the monkey was confiscated by German customs on 28 March when the singer failed to produce the documents required to bring a live animal into the country.
A spokesman for the German authorities said that the Canadian had until last night to contact them. It is understood that he has failed to do so.
The 20-week-old monkey is being cared for at an animal shelter, where staff said it was doing well.
However, staff criticised Bieber, saying that it should not have been taken away from its mother until it was at least one year old.
"The best thing would be not to buy one at all, but if you do, buy five," Karl Heinz Joachim, manager of the animal shelter told the Times.
He said that emails from Bieber's management indicated that Bieber did not want the monkey any more.
The Munich Animal Protection League said that they had received two emails claiming to be from Bieber's management company.
In the messages, they were asked how long they had to produce the paperwork before the monkey would be put down, and the next email asked whether it could be given to a zoo.
Speaking last month, customs spokesman Thomas Meister, said: "If by 17 May there is nothing, then he loses ownership of the animal and it becomes the property of the Federal Republic of Germany.
"If Bieber really does want to place the animal in a zoo, he is welcome to contact customs authorities and forfeit Mally at any time, but will likely have to pay costs associated with keeping the monkey so far and a fine."
Meister said the cost of care, food and vet visits amounted to thousands of euros. "You can bet we are going to ask for that money back."
Some fans, dubbed the Beliebers, think that their idol is above the law. "Mally has been taken away from Justin because he didn't have the paperwork to own a monkey. HE IS JUSTIN BIEBER HE DON'T NEED PAPERS", tweeted one.
There has even been a #FreeMally Twitter trend to release the monkey from captivity and return him to Bieber. But it remains to be seen whether the Canadian will come to collect the capuchin.
Bieber will perform at this weekend's Billboard Music Awards in Las Vegas without his monkey.