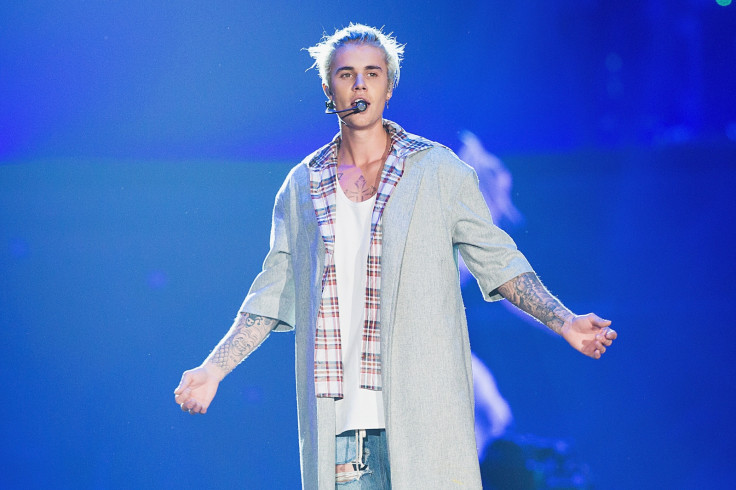 Justin Bieber shared a racy selfie wearing just his undergarment on Instagram on 27 May. This is not the first time the Sorry singer has been pictured in his underwear. In January, the 22-year-old, who is the brand ambassador for Calvin Klein, showed off his toned and tattooed body for its spring 2016 ad campaign.
In the selfie, taken in front of a large mirror, Bieber is seen holding on to his crotch. The singer captioned the photo, "#mycalvins".
Soon after Bieber posted the photo on Instagram, there was a frenzy on social media.
One fan wrote on Twitter: "Justin Bieber holding his junk on Instagram is oddly comforting to me idk." While another said: "when you go on instagram & JUSTIN BIEBER IS STANDING THERE IN HIS UNDERWEAR GRABBING HIS D**K OKGGNJGBK OK."
"I see you grabbing your junk on Instagram, you're such a tease ily @justinbieber," another said.
In 2015, when Bieber was asked to pose for the brand he was so happy that he sent actor Mark Wahlberg an underwear selfie. The Daddy's Home star himself did a photo shoot for the brand in the 1990s.
"He sent me a note saying he was doing it and I was like, 'Oh, cool,' and then he sent me a picture and I was like, 'Dude don't send me a picture of you in your underwear. That's crossing the line. I'll probably see it when I'm driving down the street, and I'll still try to avoid it," the actor said, according to Inquisitr.
Meanwhile, Bieber was recently spotted with rumoured girlfriend Nicola Peltz on a dinner date. "They had dinner and talked and laughed a lot. Every so often he would lean into her and say something that would make her smile and giggle. It was cute and Justin was in a great mood," a source told HollywoodLife.