The story broke last Wednesday. Real Madrid were winning their match against Córdoba 2-0 and in the 85th minute, Javier Hernandez lofted a precise pass to Cristiano Ronaldo. But, running like a hare, Arbeloa intercepted the pass to score the goal and complete a victory which piled pressure on Barcelona in the fight for La Liga.
The natural reaction of Portuguese star was a kick at the ball, expressing frustration that he had not scored in a one-sided game. An anecdote that was enough for Cristiano's critics to pull the trigger. "He is a selfish player, he just thinks of his own goals, he does not care unless he is the star of the game". Same old story.
The absurd debate lasted four days, and was only stopped when the Portuguese number 7 notched a hat-trick at the Ramón Sánchez Pizjuán Stadium in Real Madrid's 3-2 triumph over Sevilla, which ended the Andalusian club's run of 14 months without a home defeat. Even Álvaro Arbeloa's attempted to end controversy last Wednesday was fruitless.
"I am not upset about Cristiano's gesture", Arbeloa remarked, with no remorse, to Real Madrid's web site. "It is normal that he should be angry, he didn't score and his ambition is always to score. He is making a big effort to beat Messi and end the season as La Liga's top scorer and we want to help him, his ambition makes him the best player in the world and that helps the team". Cristiano, by the way, has scored 42 goals this season in La Liga, two more than the Argentinian.

Both Barça and Real Madrid are fighting for the La Liga title right now, with just a few points separating them. But when it comes to fair play and "señorío", the distance is simply chasmic.
Read Oier's take on the gulf in class between Real Madrid and Barcelona here.
Arbeloa, a smart and appreciative teammate, hit the nail on the head. Real Madrid's most powerful weapon, even more potent than Sergio Ramos's bravery, Karim Benzema's talent or Gareth Bale's (sadly infrequent) runs is Ronaldo's out-of-this-world spirit. His ability to maintain the hunger to be a better player in every single training session, match or season. Real Madrid's history has been written by some of the best players in the world. But I do not remember any player with more hunger for success.
The former Manchester United player has beaten another record in 2015. He is the first player in La Liga history to score 30 or more goals five seasons in a row. He has played 295 official games in the Real Madrid jersey and he has scored 305 goals. That's not a mistake. 295 official games, 305 goals. Obscene, out of this world, figures, which have earned Ronaldo the Ballon D'Or in the last two years. But even this is not enough to stop the trivial controversy.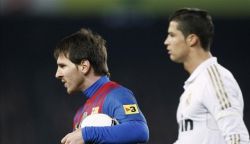 What catches my attention when it comes to this absurd debate is that it does not always start in Barcelona - which would make sense due to the rivalry between the Catalans and Los Blancos. Occasionally, the controversy does not even start in Spain. And it makes me think it has something to do with personal marketing.
Since the beginning of the rivalry between Messi and Cristiano - the reason for which we are enjoying two of the most fascinating careers in football history - the clash has been raised as a black-and-white matter. The son of God against the black sheep. The model athlete against a footballer whose image is harmful for kids. Good against evil.
I have read several interviews with Maurizio Pochettino, Álvaro Arbeloa and Xabi Alonso, and the three of them underline that "I do not see why a footballer has the obligation to be a role model for society". I subscribe to their view. Kids should be educated at home or school, football is a game, a sport, no more than that.
But, even if one subscribes to the opposite point of view - is Cristiano really a bad example? Does he not send a message similar to Rafael Nadal? Both the football and tennis pin-ups set an example to their followers, an example which says 'work, work, work as hard as you can. The real fight starts when you reach the peak of your powers.'
Cristiano Ronaldo has made mistakes. No doubt. He has been the first one to hold his hands up when it was obvious that he had failed. But again, why should he be judged every week because of his private life or his gestures on a football pitch, instead of being praised because of his professional attitude during his whole career? I can understand, and accept, fierce criticism of a player when they do not do their best in training or when they break the law -for example, evading taxes, - but not as a footballer, as a citizen like you and me.
And that is why I said that I think that Cristiano's controversy is often rooted in marketing. I have seen stupidities such as a standing ovation to Leo Messi, in front of the court, when he had to address the judge during the hearing into his alleged tax evasion - and this in a country in which 25% of population live below poverty line. And we are used to people screaming blue murder after a simple gesture of frustration coming from a player. Again, I do not see footballers as good or evil, but nowadays football marketing generates these polemic battle-lines.
Cristiano Ronaldo is in his early thirties and after all that has happened, he is not going to be able to change his image, not even the best marketing company is capable of doing so at this point. It is sad to accept that, after his retirement, Ronaldo will be remembered for his outstanding stats and trophy haul, but also for an attitude that, for from hurting him or his teammates, has made him one of the best players in the history of football.
Is the man known as CR7 selfish? Just look at the second leg of Champions League's quarter final this season. Instead of looking for individual glory, Ronaldo set up Chicharito to secure Real's passage to the semi-finals against Atlético. Sadly, as said before, this is a lost battle and Cristiano will have to cope with it for the rest of his days.
Oier Fano Dadebat is a Spanish journalist who divides his time between San Sebastian and London. You can find out more about him on Twitter @oierfano.