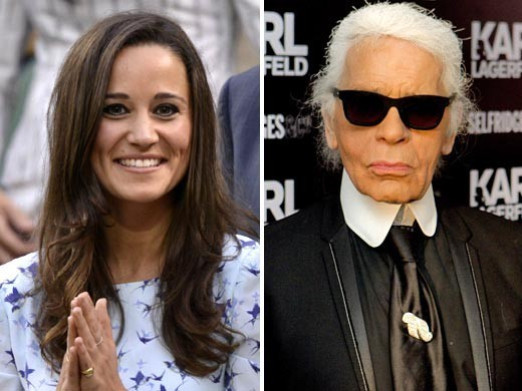 Just months after insulting Adele over her weight, Karl Lagerfeld has courted more controversy by saying he does not like Pippa Middleton's face.
The 78-year-old German fashion designer reportedly said Kate Middleton's younger sister should "only show her back", because she "struggles" with her looks.
According to The Sun, while Lagerfeld admires the Duchess of Cambridge's style and beauty, he was not a big fan of Pippa, who became a household name after stepping out in a figure-hugging dress at the Royal Wedding in April 2011.
He said: "Kate Middleton has a nice silhouette and she is the right girl for that boy [Prince William].
"I like that kind of woman, I like romantic beauties."
However, "on the other hand, her sister struggles," he continued.
"I don't like the sister's face. She should only show her back."
His comments were apparently made during a discussion comparing the Middleton sisters' diverse styles.
Although the creative director of Chanel was critical of Pippa, he praised fashion designer and former Spice Girl Victoria Beckham.
"She is great. I like her a lot. I have known her for many years," he said.
"And that body, after four children. There are not so many who have a body like that. She is very disciplined."
The fashion mogul was forced to make a public apology in February after saying of Adele: "She is a little too fat, but she has a beautiful face and a divine voice."