An American tabloid is claiming that Kate Middleton is pregnant and is suffering from anorexia.
The latest cover of InTouch Weekly magazine says the "pregnant" Duchess is "91 Lbs. and Can't Stop Losing Weight."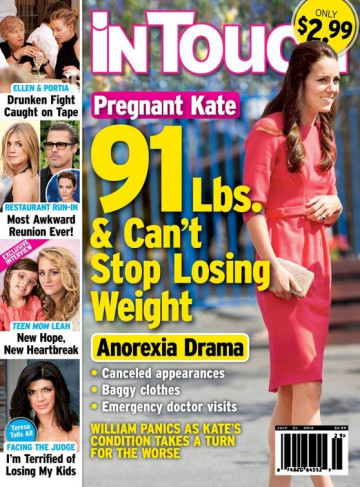 The publication claims that the 32-year-old royal "cancelled appearances" and had "emergency doctor visits."
"William panics as Kate's condition takes a turn for the worse," the cover says.
During Kate's first pregnancy, she was diagnosed with Hyperemesis Gravidarum (acute morning sickness), a "potentially serious" ailment causing vomiting and a bodily reaction against intake of food and liquids.
This sickness is commonly found in pregnant women carrying twins but St James's Palace had confirmed the Duchess was not expecting twins.
However, Kate appeared to be healthy as she recently attended the Wimbledon Championships men's singles final, alongside her husband.
The Duke and Duchess of Cambridge, welcomed their firstborn, Prince George, into their lives almost a year back, and rumours regarding a second pregnancy have been rife for a few months now.
According to Vanity Fair magazine's royal correspondent Katie Nicholl, palace insiders claim Kate and Prince William will reportedly try for a second baby this summer.
In March, OK! Magazine reported that Kate was pregnant with twin girls, and last month, InTouch Weekly claimed that the she is already two months along with a baby boy.