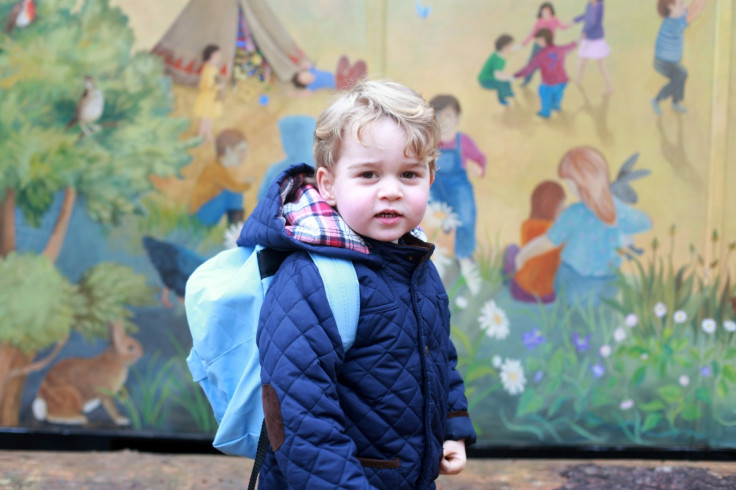 Prince George, son of Prince William and Kate Middleton, is set to attend his father's old £20,000-a-year school, where the motto is "care, share and be fair". The two-year-old royal's name has been put down for Wetherby pre-preparatory school in London, just half a mile from Kensington Palace, according to The Daily Mail. If he attends the school, he would start next year.
The Duke of Cambridge attended the boys-only Wetherby before moving to Ludgrove preparatory school, then the prestigious Eton College and finally St Andrews University.
Pupils at Wetherby, which charges fees of £6,500 a term, must abide by strict uniform rules, wearing a red-trimmed grey blazer or overcoat, red tie and grey cap – even their swimming trunks must be red.
In a message on its website, headmaster Mark Snell said the school's motto represented "the underlying principles of all that we stand for at Wetherby".
"Every boy is encouraged to be the best that he can be and every member of staff is committed to enabling each individual to fulfil his potential and achieve his goal," he said. "The school is a happy and vibrant one, an energetic and forward learning environment, whilst retaining the best of educational traditions."
The Mail suggested that the decision to register George for the school suggested the Duke and Duchess plan to move from Anmer Hall in Norfolk to Kensington Palace.
Previously it was thought that George would go to Beeston Hall school in Cromer, on the coast north of Norwich, after finishing at his Montessori nursery.
In 2014, Kensington Palace underwent a major refurbishment at a cost to the taxpayer of £4.5 million, which may have been in preparation for the Duke and Duchess of Cambridge's relocation to London. The Mail noted that moving would make it easier for the couple to carry out ceremonial duties in the capital.