The Duke and Duchess of Cambridge could not contain their laughter as they found themselves standing alongside a group of stockbrokers dressed in formal suit jackets. Nothing strange there, except that instead of trousers, the men were sporting denim hot pants and high heels.
It was all in aid of the 23rd ICAP annual Charity Day in the City of London. The fundraising event sees the global brokerage firm donate a day's revenue and commissions to charity, with the staff dressing up to complete their trades. And as the royal couple found, the more outrageous the outfits, the better.
Touring the ICAP offices Kate and William came across one daring team who had drawn inspiration for their costumes from the well-known TV advert which shows a man gyrating down the street in high heels to the sound of the Pussycat Dolls tune 'Don't Cha (wish your girlfriend was hot like me).'
As he found himself standing next to a trader wearing vertiginous black patent heels, Prince William described it as one of the "most surreal" moments of his life. "Well I never thought that would ever happen. Surreal! You guys are looking rather too comfortable in these outfits. Are you sure you don't come in like this every day?" he joked.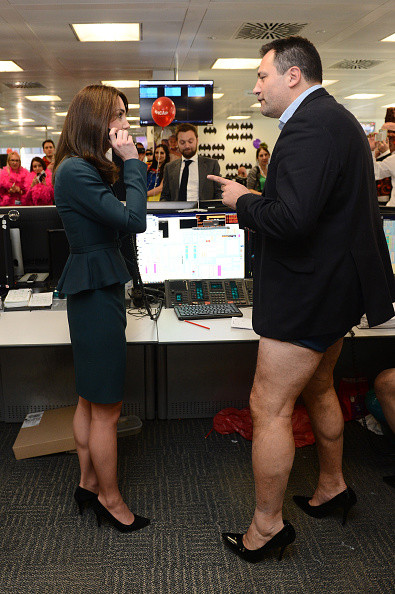 Dan Lebeau revealed that the prince was rather more interested in his high heels than the business of trading. "That was the first thing he asked me - where on earth did I get them from," he said. "I'm a size ten and it wasn't easy. I told him we were quite enjoying it but I had new respect for women. I didn't have the guts to come in like this, though. We all changed when we got here."
Nigel Halligan said the Duchess was impressed as he showed off his hairy legs in a pair of high heels. "I really don't know how you women do it! She told me she was impressed because they were so high and said I should put my feet up the minute they had gone. I certainly took her advice on that one," he said.
William and Kate also spoke to a small number of ICAP clients to "close" high value deals over the telephone. The famously competitive couple haggled and bargained as they made trades. "Is that all James? Is that all you can do?" Prince William said. In another strategic move, he asked: "Feeling charitable today? Good, just what I want to hear!"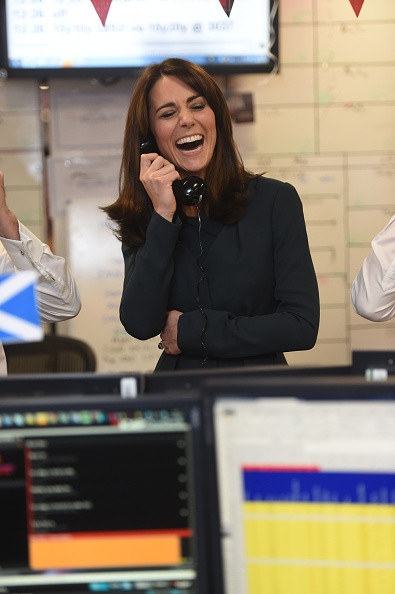 Kate opted for the soft approach, engaging in polite pleasantries before sealing the deal with a trader named Andrew on the other end of the phone. "Ask nicely, pretty please, Andrew," she giggled, prompting an eavesdropping William to pipe up: "Catherine, I think you can stop flirting with them now!" Turning to trader Brett Lincoln Prince William added: "Sorry my wife is just embarrassing me!"
The royal couple also made time for a quick game of mixed doubles table tennis with British duo, Marcus Giles and Denise Payet, courtesy of SportsAid who had brought a table into the City offices.
One of the biggest deals they were involved with came on the TriOptima Post Trade Area, which clears risk out of the market. As they returned to the trading floor, the couple were left speechless when Ian Hunt, dressed as Homer Simpson, revealed they had just conducted a deal with two British banks worth €200bn each (£145bn, $220.3bn) - part of a two to four trillion Euro deal in a huge de-risking exercise across the financial markets. "Please don't add any extra risk!" said the astonished Duchess. "Does It take a long time to pick this up? Gosh this is just extraordinary."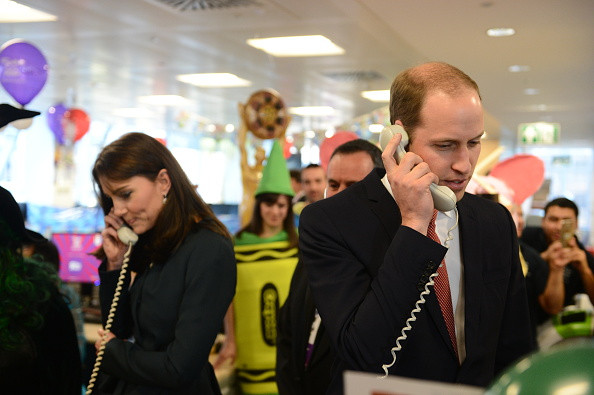 The Duchess of Cambridge certainly looked the part on the trading floor, wearing a smart LK Bennett suit and showing off a glossy long bob. Losing at least four inches off her formerly long mane, Kate looked every inch the modern day city professional, ready for business.
Before they left, they joined a group of traders dressed, naturally, in lederhosen. "It's a bit crazy down this end, lots of funny fancy dress," observed the prince.
Among the other famous faces attending the event were Prince William's uncle, Earl Spencer, Samantha Cameron, Joanna Lumley and Jennifer Saunders.
ICAP is supporting 13 charities in the UK this year, and raised £8 million globally in just one day in 2014. Some of the organisations supported by the Duke and Duchess are set to benefit this year, namely, SkillForce, of which Prince William is patron, as well as SportsAid and Place2Be which the Duchess of Cambridge represents.