Katie Holmes and Jamie Foxx are dating says friend Claudia Jordan
Claudia Jordan, who claims to be a good friend of actor Jamie Foxx, has said that he and Katie Holmes are in a relationship. The revelation came after Jordan said on the Allegedly podcast on Tuesday (21 June) that "he [Foxx] is very happy with her [Holmes]".
The former Real Housewives Of Atlanta star's comment comes after Holmes was spotted wearing a diamond engagement ring in January, which was reportedly given to her by Foxx.
According to E! Online, when hosts of the podcast Theo Von and Matthew Cole asked whether she had dated Foxx in the past, Jordan replied: "[He's a] good friend of mine. [I] Never [hooked up with him]."
The hosts then asked what she thought about Foxx's alleged relationship with Holmes. She said: "He is very happy with her. I like that he seems very happy."
The Django Unchained actor and Tom Cruise's former wife were first romantically linked after they were pictured dancing together at the 4th Annual Apollo charity event in the Hamptons in August 2013. The following month the 48-year-old told Entertainment Tonight that he was not in a relationship with Holmes.
"It's quite hilarious because we simply danced at a charity event along with a lot of other people," he said.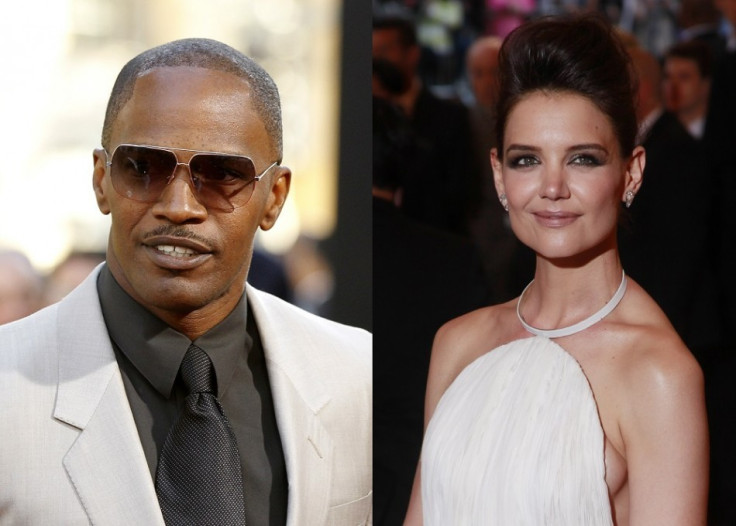 In March 2015, rumours mills were in overdrive when Foxx and Holmes were pictured holding hands in his studio apartment. However, Foxx again said he was not in a relationship with Holmes.
"What I've learned about society today is that they're so thirsty. Especially in tabloid world and social media world, they're so thirsty to find any story," Foxx said at that time. "Sometimes when you read the stuff you're like, 'Wow! That's so not true!'"
Earlier this year after a report claimed that the two were hooking up, Foxx said: "Oh come on, you guys have been trying to get that to stick for three years. [We are] just friends. That's all it is."
However, there is no official comment as yet from Foxx or Holmes on Jordan's statement.
© Copyright IBTimes 2023. All rights reserved.