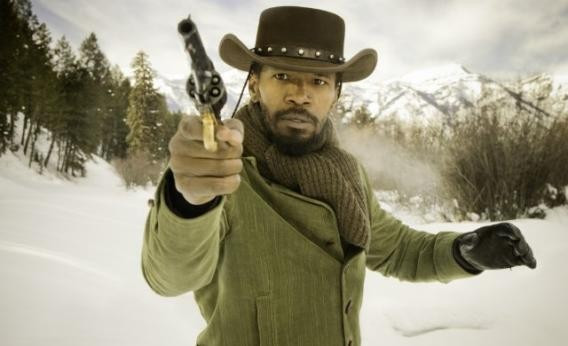 Django Unchained star Jamie Foxx met the emotional father of a man he had pulled from a flaming truck just hours earlier outside the actor's Los Angeles home.
Foxx and another Good Samaritan dragged 32-year-old driver Brett Kyle from his burning, overturned truck just seconds before the the vehicle was entirely engulfed in flames. The accident occurred in Foxx's Hidden Valley neighborhood.
"That someone would do that is so much more than I can fathom," Kyle's weeping dad, Brad, told reporters at Foxx's home. "He saved my son's life."
"Met the father of the young man from last night today," Foxx wrote on his Instagram post. "This is all that matters: That a man, a son, a brother's life was spared last night. God had his arms wrapped around all of us ... No heroes ... Just happy fathers," added Foxx, who has two daughters of his own.
Foxx later re-emphasized to reporters that he doesn't consider himself a hero and was relieved the driver survived. "I don't look at it as heroic," Foxx said. "I look at it, like, you just had to do something and it all worked out."
He said as he was struggling to free Kyle, he told him: "'You gotta help me get you out 'cause I don't want to have to leave you.' I said, 'You got angels around you. You have angels around you.'"
Kyle had careened into a ditch at a high rate of speed the night of 18 January and slammed into a pipe and concrete retainer wall, causing his truck to flip several times. It came to rest on the passenger side, but the screaming driver was trapped inside as the truck began to burn. Foxx and another man smashed the window and cut Kyle's seatbelt so they could drag him out. Kyle was rushed to a local hospital with head trauma and burns, and was arrested on charges that he was driving while intoxicated.