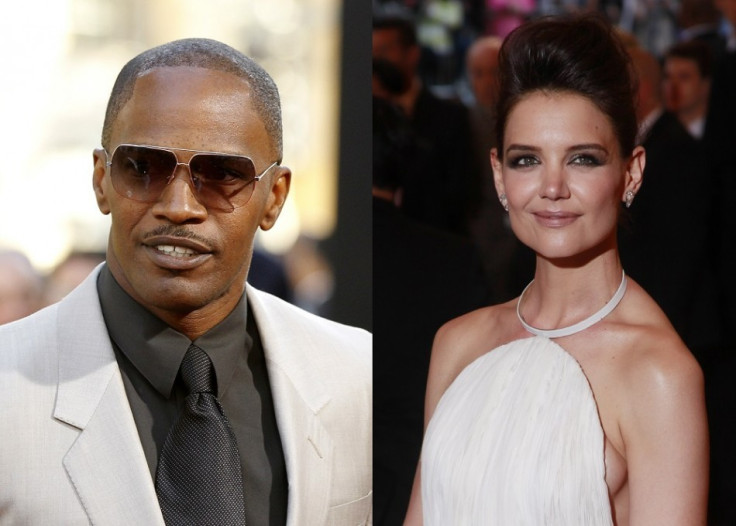 Former Real Housewives of Atlanta star Claudia Jordan has withdrawn comments she made about Katie Holmes and Jamie Foxx dating, saying that she had 'misspoken'. Earlier in June, she appeared to confirm long-standing rumours that the pair had become an item during an appearance on Theo Von and Matthew Cole's Alledgely podcast saying: "He is very happy with her, so I like that he seems very happy."
Clarifying her remarks, she told ET's Kevin Frazier: "I have no knowledge of Jamie with Katie at all. I've never seen them together, he's never told me he's dating her."
Foxx, 48, and Holmes, 37, first sent the rumour mill into overdrive in 2013 when an unnamed source claimed they had flirted up a storm at the Night of Legends party in the upmarket Hamptons region of New York. The insider claimed that Holmes was dancing with the Django Unchained actor and drank from his cocktail glass.
Despite the mounting speculation, they have repeatedly refuted the romance rumours, with Foxx issuing a statement as recently as March to Gossip Cop denying reports that the Dawson's Creek star was supposedly pregnant with his baby. "This cover story, just like the others the tabloid has run about Holmes and Foxx, is a bunch of baloney." His representative also told IBTimes UK that there was "no truth whatsoever" to wedding rumours.
Jordan, who worked with Foxx on his Sirius XM comedy channel, The Foxxhole, insisted that she was not in a position to confirm their relationship and regrets putting her friend back in the headlines. "A lot of times, I get asked questions about celebrities—some I know, some I don't. A lot of times we just give a safe kind of generic answer," she said. "Sorry to not have this bombshell story, but I cannot confirm them."