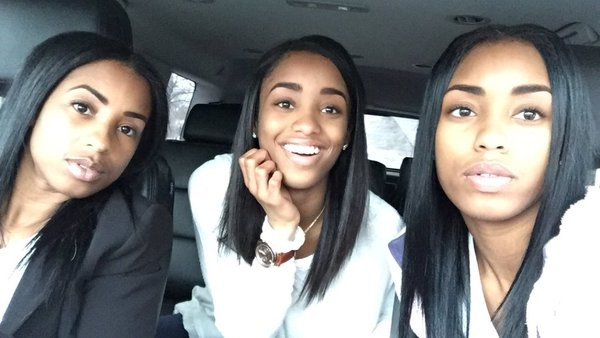 A family photo posted to Twitter on 28 January has unexpectedly gone viral as the internet debate which one the mother is. Kaylan Mahomes posted the selfie with the caption 'Mom, twin and me', throwing the internet into a state of confusion and prompting thousands to share the image widely.
The family photo has been retweeted nearly 20,000 times and has received more than 30,000 likes. Hundreds of people have also written into Mahomes to compliment her, her twin sister and her mother on their appearances. A video was also uploaded to her Twitter page, showing the twins tricking their mother into believing they were taking a photo before bursting out laughing.
The family, reportedly from Illinois, have since gained widespread fame. Mahomes has posted images of strangers stopping to take pictures with them in public. One photo caption read: "They stopped us after walking out of the nail shop because they saw our picture on Facebook lol."
The newfound fame has prompted Mahomes to start an Instagram account dedicated to the trio-lookalikes, naming the account 'MomTwinAndMe'. Their cousin has also tweeted about the sudden attention his family members are getting, saying "things travel fast on the internet".
Mahomes eventually put the internet out of their misery and let the secret out, but many have responded saying that they don't care who the mum is because all three of them are "beautiful".