Kenya massacre: Al-Shabaab vows more 'ruthless attacks against occupation of Somali lands'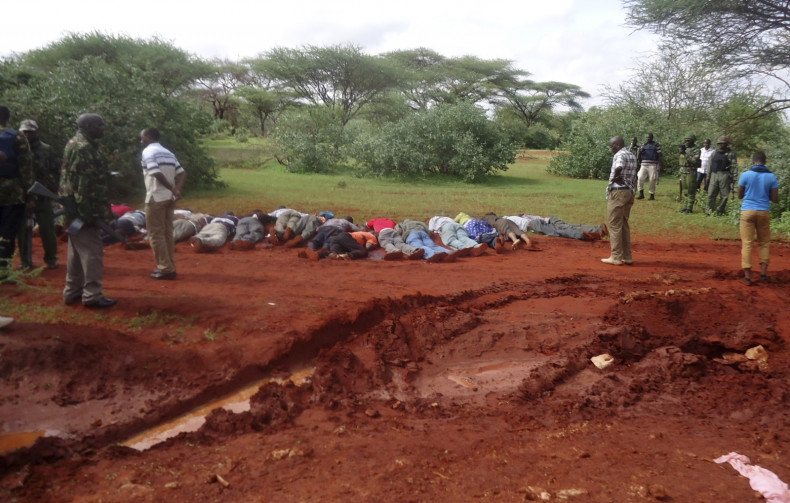 Somalia's terror group al-Shabaab has claimed responsibility for a deadly ambush which killed 36 people in northern Kenya, adding there will be more attacks to follow in retaliation to the "Kenyan occupation of the Muslim lands".
According to witnesses, armed men separated Muslims from non-Muslims and shot the Christians dead. The incident took place a few days after 28 people were killed when a bus was ambushed in Mandera.
In a statement sent to news agency AFP, a spokesperson for the group labelled the latest attack as "successful", adding that it was part of a series of attacks planned by the terrorists.
Who are al-Shabaab militants?
Al-Shabaab, which means "The Youth", is a Somali terror group affiliated to al-Qaida.
An off-shoot of the Islamic Courts Union - a rival administration to the Transitional Federal Government in Somalia - al-Shabaab aims to overthrow the Somali government and impose its own version of Islam in the country.
Al-Shabaab controlled Mogadishu and the southern region of Somalia from 2006 until 2011, when it was defeated by African Union peacekeepers.
"In another successful operation carried out by the Mujahideen, nearly 40 Kenyan crusaders met their demise after a unit from the Saleh Nabhan brigade raided them in the midnight hours of Monday at Koromei, on the outskirts of Mandera," Sheikh Ali Mohamud Rage said.
"This latest attack was part of a series of attacks planned and executed by the Mujahideen as a response to Kenya's occupation of Muslim lands and their ongoing atrocities, such as the recent airstrikes on Muslims in Somalia which caused the death of innocent Muslims and the destruction of their properties and livestock, as well as the continued suffering of Muslims in Mombasa," the statement continued.
"As Kenya persists in its occupation of Muslim lands, kills innocent Muslims, transgresses upon their sanctities and throws them into prisons, we will persist to defend our land and our people from their aggression.
"We are uncompromising in our beliefs, relentless in our pursuit, ruthless against the disbelievers and we will do whatever necessary to defend our Muslim brethren suffering from Kenya's aggression."
The group often carries out attacks in Kenya, in retaliation to the deployment of Kenyan troops in Somalia to counterattack the militants in 2011.
In 2013, at least 67 people were killed during am al-Shabaab's four-day-long siege at Westgate shopping mall in Nairobi, Kenya.
In July, the militants killed civilians and government soldiers in an attack aimed at Somalia's President Hasan Sheik Mohamud.