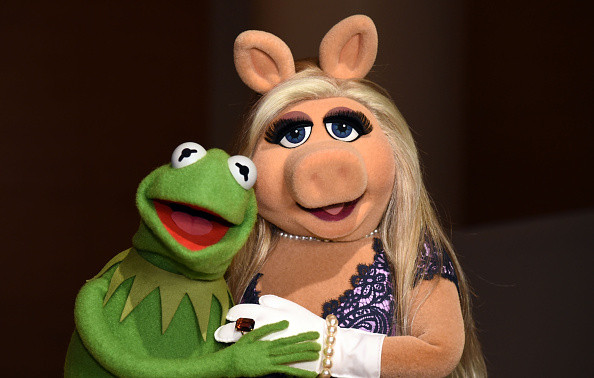 It's been a week for celebrity break-ups.
While we were just getting over the shock of Ben Affleck and Jennifer Garner's alleged "nanny-gate" split, reports that Gwen Stefani was to end her 13-year marriage to rocker Gavin Rossdale, citing 'irreconciliable differences', had us all reaching for our prenups.
And let's not get started on the news that that sent Directioners reeling, as it was confirmed that Zayn Malik and Perrie Edwards have dramatically called off their engagement, just weeks after buying a house together.
In an age of short-lived celebrity relationships, the one constant was the enduring love story of Kermit the Frog and Miss Piggy. However, the once inseparable Muppets couple, who were in a committed relationship for more than three decades, have announced they too have "consciously uncoupled".
The pair dropped the bombshell during a Television Critics Association (TCA) event in Los Angeles while promoting their forthcoming ABC mockumentary series.
In a brief statement, Kermit confirmed that it was his porcine partner who had initiated the split. He said: "Piggy and I have gone our separate ways, romantically."
Miss Piggy also confirmed the reports in an emotional Facebook post. She wrote: "After careful thought, thoughtful consideration and considerable squabbling, we have made the difficult decision to terminate our romantic relationship. We will continue to work together on television."
"Our personal lives are now distinct and separate, and we will be seeing other people, pigs, frogs, et al," she added.
"This is our only comment on this private matter...unless we get the right offer. Thank you for your understanding."
In her first public appearance since the split, Miss Piggy put a brave face on the break-up.
She told the audience at the TCAs: "Dating moi is like flying close to the sun. It was inevitable that Kermit would drop down to the ground while I stayed in the heavens."
The pair's high-profile relationship first blossomed on the sets of the 1979 "The Muppet Movie," but it wasn't until two years later in "The Great Muppet Caper" that they shared their first kiss.
They made it official when they tied the knot in "The Muppets Take Manhattan".
With the highly eligible frog now officially single, there are no shortage of admirers eager to step into Miss Piggy's shoes with actress Emmy Rossum quick to express her interest.
But Kermit is said to have moved on already and has been romantically linked to another pig named Denise, who works in marketing. Miss Piggy, meanwhile, is rumoured to be penning a tell-all book.
However, consummate professionals, the pair are prepared to put their personal feelings aside to honour their professional commitments and will be teaming up for the upcoming TV series "The Muppets" and Miss Piggy's late-night talk show.
It's not quite the end of Kermit and Miss Piggy's story, but the love affair is officially over.