KFC's Watt a Box lets you charge your smartphone while you chomp on chicken
Special promo box contains a built-in power bank that you can plug your phone into.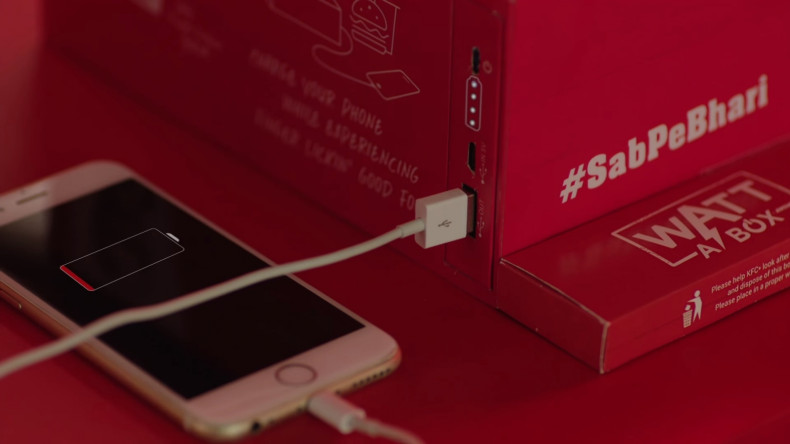 In what seems like one giant effort to help you smear your smartphone screen with chicken grease, KFC has launched a limited edition takeaway box that lets you charge your mobile while stuffing your face. The 'Watt a Box' is being launched as part of a promotional campaign in India and comes with a built-in power bank in addition to deep-fried chicken parts.
The Watt a Box is being handed out in select KFC restaurants in Delhi and Mumbai as part of a competition being run on KFC India's Facebook page. Winners who order the chain's new 5-in-a Meal box have a chance of getting their food served with side helpings of Lithium-Ion battery and micro-USB/ Apple Lightning connector cable. Presumably, you're out of luck if you own an Android device rocking a USB-C port.
Lluis Ruiz Ribot, CMO of KFC India, told the Times of India that the fast food chain hoped to introduce "an element of utility" to its food boxes – presumably because serving your food in a container rather than directly into your hands isn't a utility in itself.
Ribot told the website: "Each one of us spends a considerable time on our smartphones daily, and the phone battery going dead is almost like a nightmare! No longer is that the case, with the Watt a Box around."
Colonel Sanders isn't the only purveyor of fast food trying to inject tech into takeaways: in March, McDonalds Sweden launched Happy Goggles, a Happy Meal box that can be transformed into a Google Cardboard-like virtual reality headset and tablets are popping up at restaurants for diners to get appy with their meals.
We'd take either over KFC's chicken-flavoured nail polish any day.