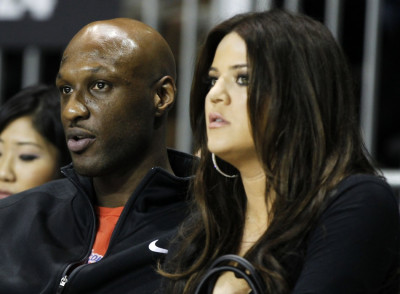 American reality television star Khloe Kardashian is reportedly still in touch with estranged husband Lamar Odom, after filing for divorce last month.
According to a Radar Online report, the 29-year-old Keeping Up with the Kardashians star has adopted more of a mother-like role towards him.
"Khloe has been in constant contact with Lamar daily since filing for divorce ... she is making sure he is taking care of responsibilities with his DUI, and meeting with his trainer," a source said.
"It's definitely a mother-son type of relationship. There will always be a lot of love there between the two, but Khloe has definitely moved on," the insider added, "There are zero plans for the former couple to reconcile, and both are very amicable right now, which is a good sign for the divorce. It should be quick, and no drama."
The 29-year-old reality star tied the knot with the 34-year-old professional basketball player in 2009, just four weeks after they first met.
The couple's marriage first hit the rocks last year when it was claimed that Odom had cheated on his wife with several women. He also reportedly denied to take professional help for his drug addiction.
"Lamar appreciates having Khloe in his life....he is thankful to her for making sure he is taking care of business obligations, and meeting deadlines. The two will always be friends."
Meanwhile, Kardashian, who covers the February 2014 edition of British Cosmopolitan told the magazine that she's "excited" for this year to end.
"I love the new year, new beginnings," the reality star said to the magazine, as quoted by E! Online. "I need a good fresh start; I'm excited for this year to be over with ... You only live once so let's make that one time perfect. We can't fix our mistakes and imperfections, so let's have fun. You get what you give out in life."