Khloe Kardashian has responded to a backlash on social media following the publication of a magazine interview about her relationship with estranged husband Lamar Odom. The reality star was criticised for apparently speaking to the media while the former NBA player is still in recovery, after falling into a coma following a four-day sex and drugs binge at a Nevada brothel.
In the cover story for People magazine, Khloe discusses her decision to suddenly call off her divorce from Odom.
The 31-year-old turned to Twitter to address her critics and clarify the reasons for the interview. She stated that she was 'contractually obligated' to do the interview which was conducted before his collapse, to promote her new book, Strong Looks Better Naked. She was required to do a five-minute 'follow up' call afterwards, in which she spoke about Odom's recent ordeal and clarified her position regarding their relationship status.
She wrote: "I want to make this VERY clear ... My people cover, I shot and interviewed for PRIOR to all the events that happened. It was contracted press for my book that I wrote months and months ago. Timing is what it is."
"I had to do a follow up 5 minute phoner after the events only because I was contracted to. I cancelled my book tour to avoid this attention," she explained.
Sternly rebuking those who lambasted her on Twitter, she said: "Shame on you all for thinking the worst of me. It's been a tough few weeks. I don't need your f***ed up energy! Know the facts before you throw stones."
The couple's relationship has been the focus of speculation after their impending divorce was halted. Following their separation, Khloe filed for divorce in late 2013, but the pair did not sign off on the documents until July this year. Due to a backlog in the city of Los Angeles, the papers had not been processed at the time that Odom was taken into hospital, leaving Khloe with responsibility for making decisions relating to his medial treatment.
Prompting hopes of a reconciliation between the pair, Khloe's lawyer Laura Wasser appeared in court on 21 October, asking the judge to withdraw the papers that would end the couple's marriage.
Addressing the speculation, Khloe denies she is back together with Lamar, stating that the decision to hold off on divorce proceedings was a practical one, enabling her to continue making medical decisions for him while he remains in a life-threatening condition.
She told the magazine: "I pulled back on the divorce because there is no rush for it. For medical decisions and a tonne of other things, it's just smarter that it's put on hold. But that does not mean I'm back with Lamar. It's not even in our brains to think about us having a relationship. Only time will tell.'
Still very much by his side she added that she will 'always love' Lamar. "I loved him always, and I will always love him. I don't believe love is fickle. I believe when you love someone, you are allowed to love from afar. You don't have to be with that person in order to love him."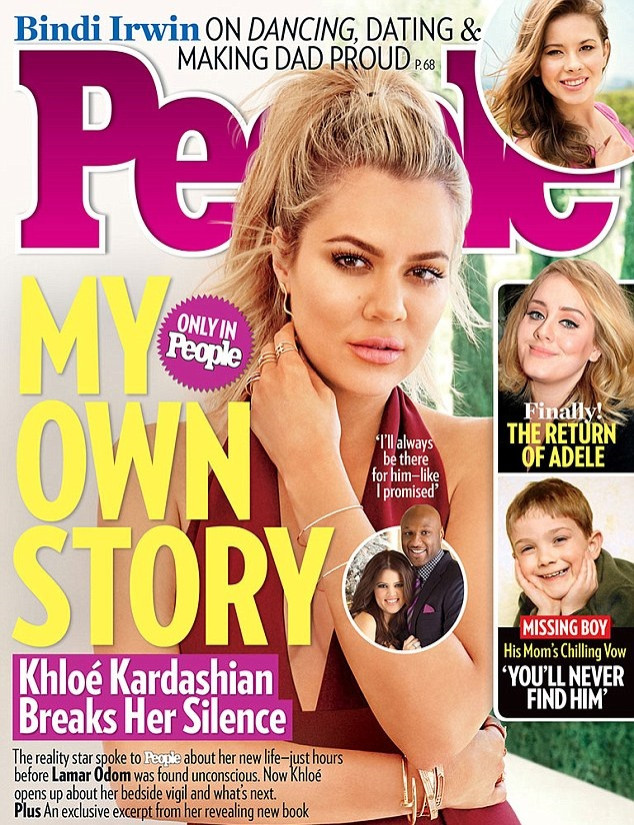 According to Mail Online, she added that she no regrets about her marriage and credits Lamar for helping her to forge an identity outside of her family.
"It was the most magical, special time in my life, and I know what we had was really rare," she told the magazine. "When I got married, I was no longer simply one of the Kardashians; I had my own life and a separate identity. I had broken free. I was an adult (finally)," she said. "But with Lamar gone, it was as if I had taken a giant backward step. I was back to being Khloe, but a somewhat more damaged version."
Khloe has remained by Odom's bedside for the past two weeks fueling speculation that her romance with James Harden, 26, has been sidelined. She told People that the Houston Rockets star has in fact been supportive of her as she supports Lamar during his ordeal.
"He's been great with me, and I'm just allowing everything to unfold," she explained. "If it's ever too overwhelming, then I understand that as well."
Odom is alleged to have paid £75k for a four-day bender that included "private party sessions" up to six times a day with the women at the brothel. It is believed he overdosed on a cocktail of drugs after doctors allegedly found "every drug imaginable in his system". He was hospitalised in Las Vegas and following a miraculous recovery he was transferred to Los Angeles, where he is undergoing ongoing treatment.