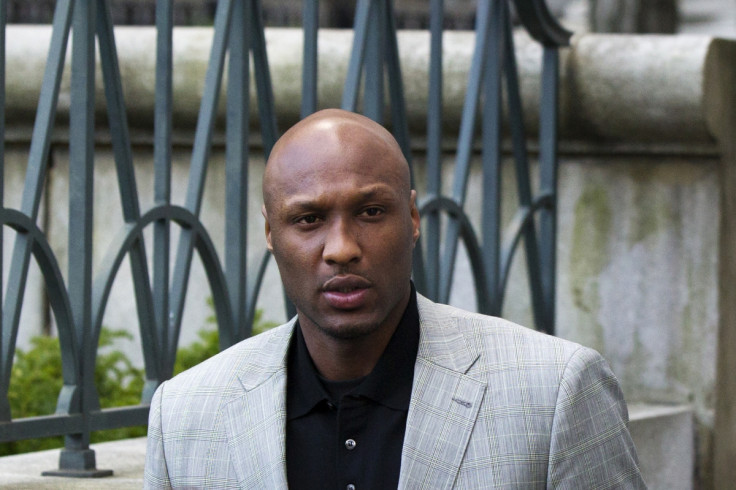 NBA star Lamar Odom embarked on an alleged drugs binge after receiving an upsetting call on Sunday (11 October), in connection with his portrayal on Keeping up with the Kardashians, a source claims. The ex-husband of reality star Khloe Kardashian, was found "foaming at the mouth" and unresponsive at Dennis Hof's Love Ranch South in Pahrump, Nevada on 13 October. He was taken to a Las Vegas hospital where he is said to have fallen into a coma and remains in critical condition.
Recounting the days before the incident, brothel owner Hof claims Odom was in good spirits when he picked the athlete up at his LA home on Saturday (10 October), but explains that he quickly became "bummed" after receiving a phone call on Sunday.
According to TMZ, the sports star became 'irate' after the conversation which was related to an episode of the E! reality show in which his ex-wife Khloe reveals her fears for Lamar following the recent drug-related death of his best friend. She expressed her concerns that Lamar would 'spiral' out of control after suffering another loss in his life.
Hof described Odom as inconsolable after the phone call. He added that, contrary to reports that Odom suffered an accidental drugs overdose, noone saw the basketball player taking drugs during his four night stay at the establishment. He told E! Odom consumed 10 herbal Viagra pills and two-thirds of a bottle of cognac as well as normal Viagra. "Of course everybody's thinking, 'Well, maybe it was drugs.' We didn't see any effects of that. He was going to sleep every night, and I don't think he was doing any drugs - although you never can tell. He was doing an herbal Viagra and a lot of it," he explained.
According to E!, the last time someone saw Odom responsive was at 6am on Tuesday, when a prostitute woke him up to tell him she was leaving. The same source also said that no illicit drugs were found in the room. He was discovered later in the day, at around 3:30pm when two prostitutes found him unconscious and foaming at the mouth.
"There was some blood coming out of him. The 911 operator asked them to turn him on his left side and of course he's a big guy, so it was a big challenge," Hof said. "They did that and a lot of stuff started coming out of him. He started throwing up and they say it was a horrifying sight...Then the paramedics took over. It's terrible. You got people, the girls that found him, out here that are very upset," said Hof. "I hope he lives."
Other sources told TMZ that doctors found "virtually every drug imaginable" in the 35-year-old's system. An insider claims that Odom started taking cocaine on Friday and "chocked on his mucus". A second source said that the mucus in Odom's lungs was caused by smoking crack-cocaine adding that doctors also found opiates in the ex-NBA star's system and needle marks on one of his arms.
The former LA Clippers player is now fighting for his life after reportedly suffering multiple strokes. He is believed to be on dialysis after his kidney's shut down and is breathing with the assistance of machines and could face brain damage. "The long term effects of his drug use have taken a toll on his body and the binge this time was too much to handle," a source told E!
The Kardashian family have rallied around Odom on hearing the news. His ex-wife Khloe Kardashian, her mother Kris Jenner, and older sister Kim Kardashian, are believed to have flown to Las Vegas and are now by his bedside. His former brother-in-law Rob Kardashian, who once shared a home with Odom and Khloe, has also come out of seclusion to be by his side.
Scott Disick, who recently split with long-term girlfriend Kourtney, is also said to be heading to the hospital. Kylie Jenner was in the middle of a livestream when news of Odom's collapse broke, and immediately ended the video. Kendall, who is in Shanghai for fashion week, tweeted the heartbreaking message 'please don't go'.
"Everyone has dropped everything to get there," a source told People. "There are a lot of calls and texts going back and forth as everyone is figuring out how they can help and be there for each other. They are asking their close friends to pray for Lamar, for healing and strength.
"There is confusion about his condition, and they don't know the extent of his injuries, but I'll tell you this: they wouldn't just drop everything unless it was serious. The family has been told that this isn't just a minor thing; that it was extremely serious."
Odom, who has two teenage children with former partner Liza Morales, married Kardashian in 2009 after a whirlwind romance, but she filed for divorce in 2013 after allegations emerged of his alleged usage of 'hardcore recreational drugs and reports of cheating. Later that month, Odom was arrested for DUI and refused to be tested, resulting in a one-year suspension of his driver's licence. He entered a rehab program shortly after, but left just 24 hours later.
Despite the pair's divorce in July, the two still maintained communication. Khloe embarked on relationships with French Montana and James Harden, but has maintained that she "would never not love Lamar" and would still be his wife it were up to her. Odom was seen confronting Kardashian in August shortly after the pair divorced, as she headed into the gym.
The two-time NBA champion won a Bronze medal at the 2004 Olympic in Athens but his career has floundered in recent years. A rep from Excel Sports Management, which represents Odom, have released a statement commenting: "Lamar Odom is a long-time member of the Excel family, and we are keeping him in our thoughts and prayers. We are staying close to the situation but have no additional information or comment at this time."
The Kardashians have yet to comment on the incident