The killer clown craze is probably reaching its peak and will die out just as quickly as it started but the stories are still coming in thick and fast. Sometimes it's people being jumped out at, sometimes they're chased, sometimes it's just a terrifying-looking clown standing silently by – but with the first fines starting to be handed out and the first arrests made, when does scary become criminal?
On Tuesday (11 October) the Metropolitan Police saw the need to release a "response to killer clown incidents", detailing the force's actions on the growing issue. Out of the numerous incidents reported to the force, Commander Julian Bennett said three "meet the threshold of a criminal offence".
"While we do not want to stop people from enjoying themselves it is important that while having fun they remember to act in a responsible manner and understand that they could be prosecuted if a criminal offence is committed."
IBTimes UK contacted the Met to ask what that threshold is. A spokesperson said that in incidents where there is no assault or other offences, a public order offence would be the police's main consideration: "This offence is referred to as threatening behaviour or intending to cause someone to fear or to provoke violence."
Thought to the be the first, a fine of £90 was handed to Connor Jones,18, in Caerphilly, South Wales, earlier this week, after he was caught scaring children coming out of a local school. At the same time, police in Uxbridge arrested 19-year-old Kenny Ojuederie, a student at Brunel University, after he chased friends with a chainsaw while wearing a clown costume, for a YouTube video.
A number of the killer clown incidents have been videoed and then uploaded to YouTube. IBTimes UK asked YouTube for a comment but did not receive a reply. When asked whether the force would look into such YouTube videos, the Met spokesperson said that if offences are apparent in the video, "we will of course look into it".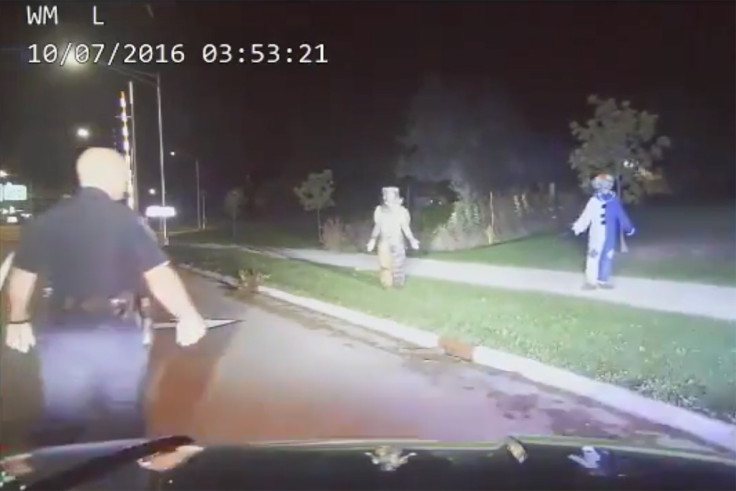 Though some people are taking justice into their own hands, with the fight back against killer clowns having gathered steam. A number of the YouTube videos show young people wearing clown outfits trying to scare strangers but then being attacked by terrified passers-by. On Tuesday, Cambridgeshire police said that they were contacted by a man who had punched someone in a scary clown mask in the face after they had jumped out on him with "possibly something in his hand".
What about the people selling these outfits? Costume shops around the UK are reacting in very different ways. Some shops in Plymouth have taken down displays of clown costumes and said they will only sell them at special request. One Rochdale fancy dress shop said it was asking for ID before selling them so they were not being sold to under 18s.
Police in some areas have visited shops telling them to be wary of who they sell the costumes to, although many of the shops have stood defiant, saying they still have a right to sell the costumes. One retailer told IBTimes UK that although there had been a spike in sales, it was not uncommon for the run-up to Halloween – they also noted that some costume sellers "like whipping up a frenzy" over controversial costumes for sales but that Halloween should really just be seen as an "opportunity to dress up and indulge in escapism".

But aside from the growing public backlash, the message from the police is clear: go out with the intention to scare people with threatening behaviour and the consequences could be fines and even arrest.