The spine-chilling first part to Killer Women with Piers Morgan, last week, left viewers in awe as the defiant Erin Caffey showed little remorse for orchestrating the murder of her entire family. When things couldn't get much more sinister, Morgan interviews two more convicted killers. The episode then takes on an air of obfuscation after one of them vehemently maintains their innocence.
Amanda Lewis, 35, was sentenced to life imprisonment in February 2008 for allegedly drowning her daughter Adrianna Hutto in a swimming pool. Eight years after she was jailed – following her seven-year-old son's damning testimony – she denies the killing, and it all looks pretty convincing.
The tragedy was treated as a horrific accident, but her half-brother, AJ Hutto, who was just five years old at the time, told his grandparents a rather different account of events.
The little boy took to the witness stand in a US courtroom two years later, sending shivers down the nation's spine when he presented the jury with his own drawing of his mother drowning Adrianna. After a prosecutor asked who the stick figure was, he replied: "My momma." On being asked what she was doing, he said: "Killing my sister."
Morgan appears perplexed when Lewis continues to stand by her claims of innocence almost a decade on, previously admitting in his Mail On Sunday column: "I still don't know if she did it or not. Viewers, I suspect, will be equally torn".
The Good Morning Britain host asks Lewis in a preview of the show: "Did you kill Adrianna?" to which she firmly shakes her head and says, "No, I did not."
He then asks, "Did you dunk her in that pool until she drowned?" as she looks back at him with an air of hopelessness, still shaking her head, and stating: "No."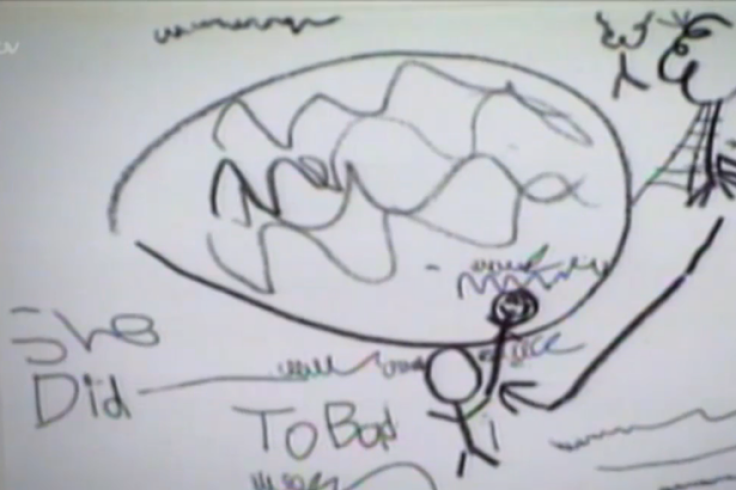 Body language specialist Judi James made her own verdict on the convicted murderer, and told IB Times UK: "Amanda's raised chin implied defiance or arrogance while her arched brows and her unwavering eye contact should suggest innocence. But add that to the fact that her facial expression appeared cold and hard and you have a complex mix of signals that illustrate why I would never use body language readings to suggest whether a person is guilty or innocent of a crime like this."
"I have seen murderers capable of producing completely innocent signals but only because they had no ability to feel guilt or because they believed what they did was completely justified.
"I have also seen innocent people looking guilty as hell because the utter shock of being accused has left them looking blank and numb, which has been read as unfeeling and cold and therefore a sign of guilt," she added.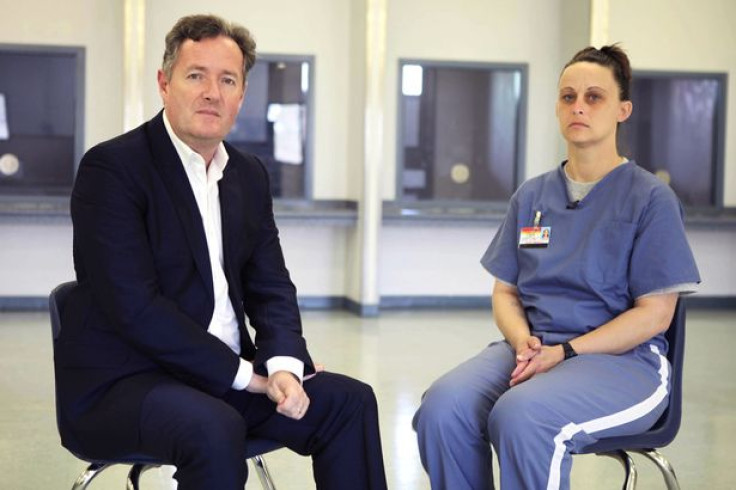 The documentary also examines the case of Rhonda Glover, a former beauty queen and Texas rodeo star who shot her boyfriend, Jimmy Joste, at point blank range. The lovers enjoyed a glamorous lifestyle built on the success of his oil business, but their relationship spiralled into drug-fuelled chaos, ending in cold blooded murder.
Morgan discovers, rather disturbingly, that Glover shot Jimmy ten times from homicide detective Richard Faithful, and continued to open fire at him as he lay dead.
Watch Killer Women with Piers Morgan on ITV at 8pm on 18 May.