A tabloid has come up with claims that American reality television star Kim Kardashian and rapper Kanye West are heading for divorce.
The 33-year-old Keeping Up With The Kardashians star and West tied the knot in Florence, Italy on 24 May.
According to the latest issue of InTouch magazine, the couple's marriage is over after 58 days and that West is "abandoning" Kardashian.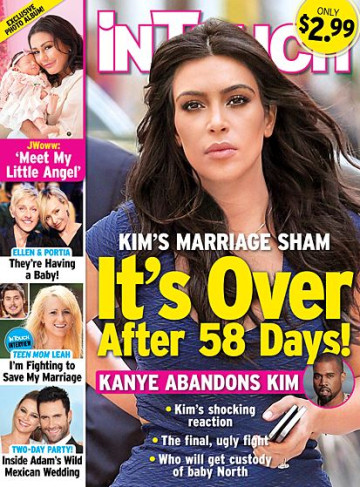 "The rapper has been doing his best to avoid and ignore his new wife since their honeymoon," a source told the publication.
Kardashian, who has one-year-old daughter, North West, with the rapper, wants to work out their relationship, because of her previous failed marriages.
In 2000, the socialite eloped to Las Vegas, and married Damon Thomas, when she was just 19. They split three years later.
In August 2011, Kardashian married NBA star Kris Humphries after just six months of dating. But the couple parted ways in 72 days.
"Kim is so obsessed with her image that she doesn't want to suffer the public humiliation of yet another divorce," another insider said.
"Kim has no choice but to accept Kanye's neglect but still hopes he will make an effort in their marriage," the source continued.
"The reality of her marriage to Kanye is crystal clear. She told herself it would be a fairytale romance, but instead it devolved into yet another nightmare marriage," the insider added.