Kim Kardashian clearly isn't shy about having a photograph taken. She even takes several snapshots of herself on a daily basis. Just recently she brought out a book entitled Selfish that compiled hundreds of her best selfies; because Instagram just didn't possess enough staying power for the reality star - oh no, she had to have those pictures in print and wanted millions of fans to have them too.
Because of her willingness to jump in front of the camera lens, it's fair to say that Kardashian often finds herself taking part in some rather odd photoshoots, with her latest being no exception.
Posing in System magazine, she's shot by German fashion photographer Juergen Teller, renowned for his unique, often over exposed photographs of many stars including Kate Moss, Dakota Fanning, Jennifer Lawrence and Jared Leto. But even by his standards, these images seem pretty bizarre.
Wearing a nude body-suit (styled by husband Kanye West), the photographs show a platinum blonde Kardashian frolicking in the dirt-covered surroundings of the Château d'Ambleville in France, which despite sounding glamorous, doesn't consist of much on the outside other than earth, rocks, and farmyard equipment, and seems an ill-fitting choice of location for fashion-conscious Kardashian.
Inspired by her latest spread, IBTimes UK takes a look back at some of Kardashian's more unusual photoshoots, from bearing gold grills in Cr Fashion Book to balancing a champagne bottle on her bum for the cover of Paper...
Vogue Brazil
Typically brunette Kardashian shocked the world when she suddenly dyed her dark hair to peroxide blonde and people couldn't help but take to social media to voice what they thought of her new extreme locks.
Some said she looked like Disney villain Cruella de Vil, and others compared her to Legolas from Lord Of The Rings. But it was mostly Harry Potter character Draco Malfoy that the reality star was likened to after the drastic change. No wonder she didn't keep it for very long!
Paper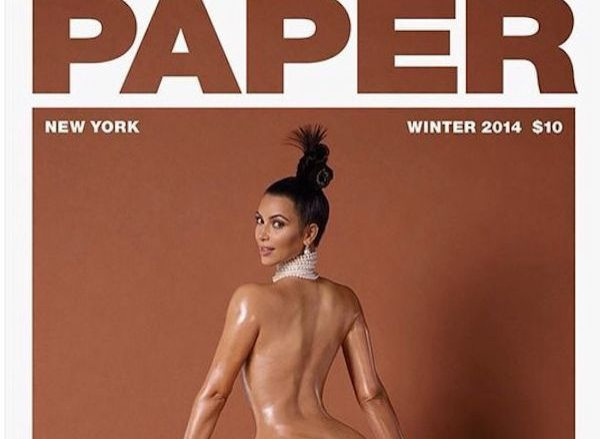 The world went into melt-down yet again, when she released two alternative covers for US publication Paper magazine. One saw her exposing her bare behind straight to the camera, whilst the other was a little more refined, showing her balancing a bottle of champagne on her bottom as it shot itself over her head and into a glass she was holding.
CR Fashion Book
Whilst the upclose snapshot of her wearing gold grills for the cover of Cr Fashion Book, the other photographs taken from the shoot by Karl Lagerfeld managed to remain under the radar considering Kardashian's high profile.
Love magazine
Undoubtedly the most controversial set of photographs ever taken of the Keeping Up With The Kardashians star, her spread in Love magazine saw her expose herself fully naked for Prada.
Kris Jenner Instagram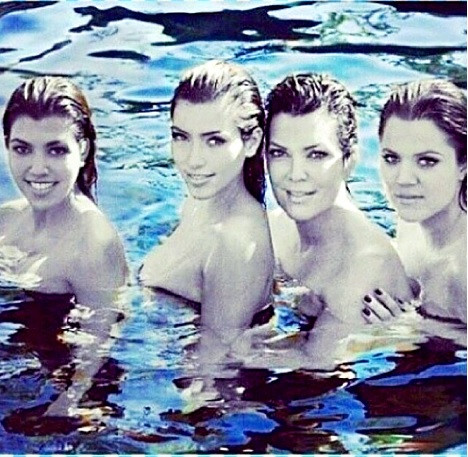 Okay, so it's not an official photoshoot nor do we really believe her and her family actually posed for such a photograph given the evident signs of Photoshopping, but you've got to admit it's pretty funny, right?
Kim Kardashian Instagram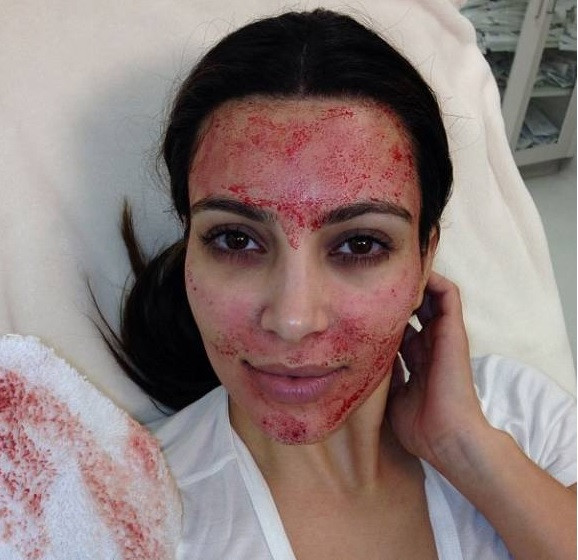 Regardless of our list, it's not just Kardashian's professional photoshoots that occasionally walk on the strange side. The 34-year-old has also been known to take a strange selfie every once in a while, like when she decided to get a 'blood facial' in 2014, and when she forgot to put on some sun-cream while holidaying with her sisters in Mexico in 2009.