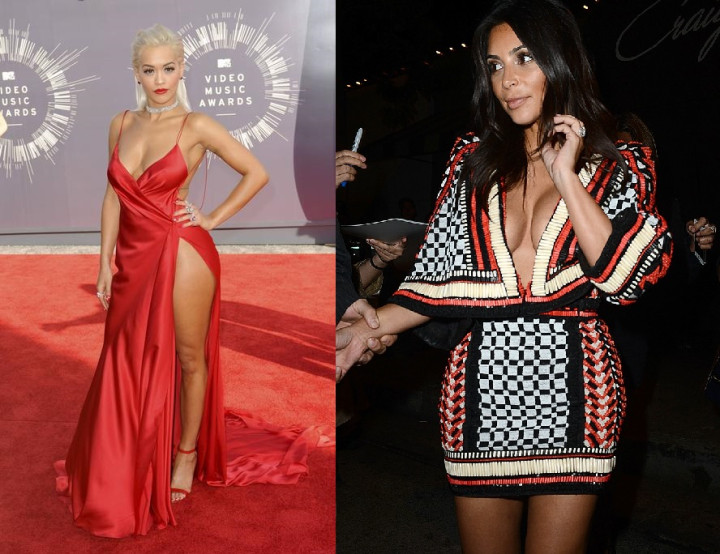 Kim Kardashian reportedly gave Rita Ora the cold shoulder at the MTV VMAs last Sunday by asking to be seated far away from her.
According to a report by TMZ, the reality star refused to sit near the songstress because she blames her for "screwing" with her brother Rob Kardashian's head.
When the 33-year-old arrived at the awards show and discovered her seat was close to Ora's, 23, she asked producers to find her a different seat to avoid any drama, it was claimed.
Kim "wasn't a diva" but the show's producers had to scramble around before eventually finding a seat for her next to her sisters Kendall and Kylie Jenner.
Sources informed the publication that the family still blame the Hot Right Now singer for some of Rob's issues since his ugly breakup with her in 2012.
The sock designer famously outed the blonde star on social media for cheating on him with "20 other dudes" during their relationship.
Kim was reportedly furious at the way he was treated and doesn't feel he has been the same since the breakup.
The reality TV star has spoken out in defence of her younger brother on several occasions. A few months ago, she berated Rob's former girlfriend Adrienne Bailon for saying she "regretted" her relationship with him during an interview with Latina magazine.
Kim accused the actress via Twitter of "kicking her brother when he was down" and told her to "let it go".
However, during her appearance on Watch What Happens Live a few weeks ago, when asked if she would prefer to have Bailon or Rob's other ex, Ora, for a sister-in-law, Kim said that she would choose Bailon, hands down.
"She was in our lives for a long time and I know she's a really sweet girl and she has good intentions and she has a good heart," explained Kim.