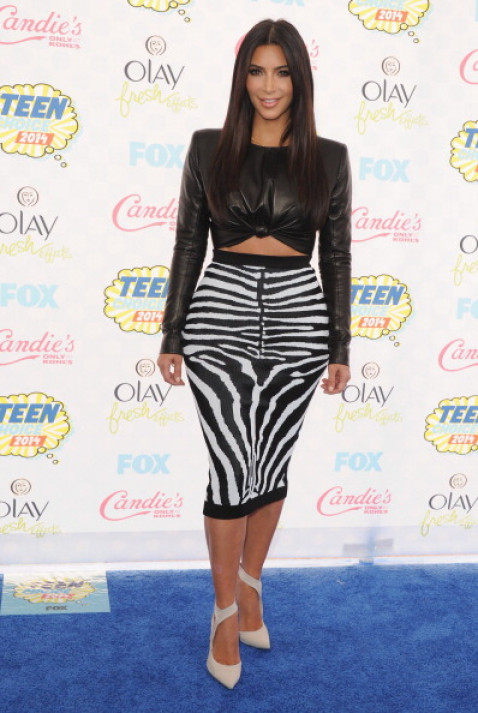 Kim Kardashian-West's bottom is the subject of intense speculation after she appeared to be wearing butt pads. The reality star, who is famed for her voluptuous derriere, was leaving sister Khloe Kardashian's 32nd birthday party at Dave & Busters in LA, when her attention grabbing bottom caught the eye of the paps.
The E! star was photographed wearing a skirt which appeared to expose the outline of pads on her posterior, according to MailOnline.
The 35-year-old has always denied having her bottom enhanced, however, even after losing weight, her behind appears to be bigger than ever.
In 2014, Kim responded to claims she had filler injected into her bottom tweeting: "Sorry 2disappoint.... I've always had an ass. I know it's more fun 2believe it's not real, kind of a compliment since I kill myself in the gym."
Kim's posterior was most recently on display in Kanye West's controversial video for the song Famous.
The 39-year-old rapper's features several naked celebrities, some of whom participated in the shoot while others such as Taylor Swift are look alikes. Ray J, Amber Rose, Caitlyn Jenner, Bill Cosby, George W. Bush, Donald Trump, Anna Wintour, Rihanna and Chris Brown are seen in bed with Kanye and his wife.
Speaking to Women's Wear Daily at the GQ party, Kim said she wanted to see the video in its entirety on its release.
"I actually never saw the final edit of it," the 35-year-old said. "I did that kind of on purpose because I love to be surprised. It was, like, three, four months in the making, so I obviously knew it was going on, but I didn't actually see the final cut until he debuted it at the Forum. It was really cool."
She most famously "broke the internet" with her bottom baring antics after exposing her rear on the cover of Paper magazine. The TV star defended the controversial image, describing it as an "art project."
The mother-of-two recently revealed her dramatic weight loss, just weeks after giving birth to her second child, son Saint, in December.
As the revelations of her alleged use of butt pads surfaced on social media, Kim's fans turned to Twitter to ponder her bottom.