Kim Kardashian West has described her controversial nude photo cover as an "art project."
The reality TV star appeared naked on the cover of Paper Magazine, fully exposing her famed posterior. Posting the images on social media she pledged to 'Break the Internet.'
Speaking on Australia's The Project on Channel Ten, the Playboy cover girl defended the images after she was criticised for being a bad role model for young people, who might be inclined to imitate her naked selfies.
"I was so honoured and excited to work with [photographer Jean-Paul Goude] because he is a legend, and for me that was something I wanted to do to make myself feel confident.
"As a role model I'm not saying anyone else should do that, but for me it was an art project and it taught me to do what you want to do. I'm never one to preach, but I felt really positive and really good about myself. I love the photos, I did it for me, I hope other people like them."
In an interview with Channel Nine's Today programme she further claimed the naked shoot was an act of empowerment, as she showed off her post-baby body.
Kardashian West said she was at her lowest when she was pregnant with her first child North and the shoot was her way of feeling good about her body again.
"I had a really bad pregnancy and I gained a lot of weight and I did not feel good about myself. I felt probably the lowest I have ever felt in my life," she said
"Just yesterday I saw a clip of me when I must have been about eight months pregnant - huge! I said, 'guys, just wait until I have this baby, as soon as I get my body back and I feel good about myself, I'm going to do some naked shoot so just be ready.' "
"I'm curvier, I feel sexier and it's all about my feeling. I felt proud to show my post-baby body off," she explained.
The 34-year-old was the focus of derision for the gratuitous images and was parodied on social media with a series of mocking memes.
She laughed off the parodies saying: "You just have to have a sense of humour. It's entertaining and some of the things I thought were really funny and you have to laugh at it."
She also dismissed reports that the images by celebrated photographer Jean-Paul Goude were photo-shopped explaining that the difficult pose left her in pain.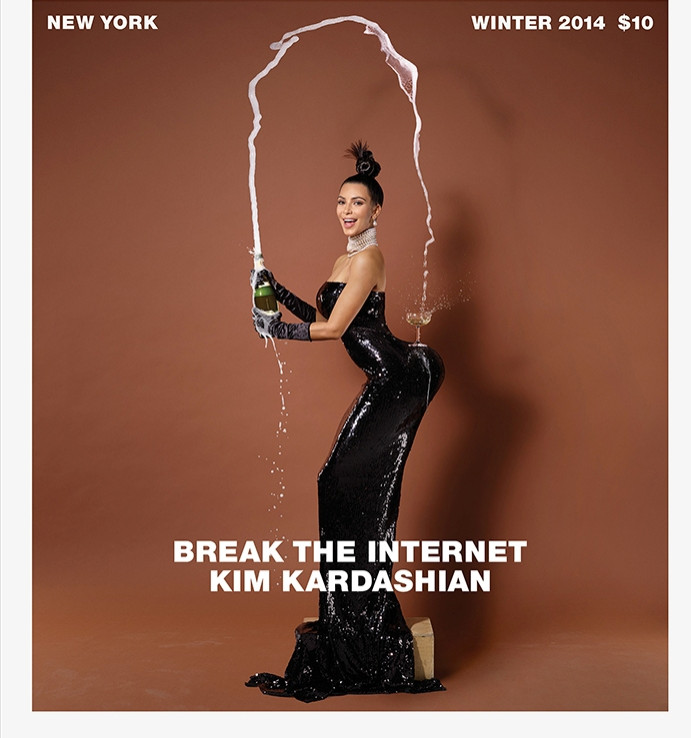 "My back hurt for about a week after that shoot... I used muscles. [Goude] has an art of posing you and it was definitely not comfortable."
While the controversial images have had a mixed response from the media and the public, the TV star's exes also had differing reactions. Ex-husband Chris Humphries dismissed the images as irrelevant stating that he "doesn't pay attention to things that are unimportant."
But according to TMZ, her ex-boyfriend, Ray J has benefited from the release of the pictures. He has reportedly earned around US$50,000 since the Paper magazine shoot, after it renewed interest in the pair's 2007 sex tape.
Sources at Vivid Entertainment revealed that the demand for the video has increased. The president of Vivid Entertainment, Steve Hirsch, said that the most recent spike makes Kim's sex-tape the biggest selling celebrity sex tape of all time, ahead of Pamela Anderson and Tommy Lee.