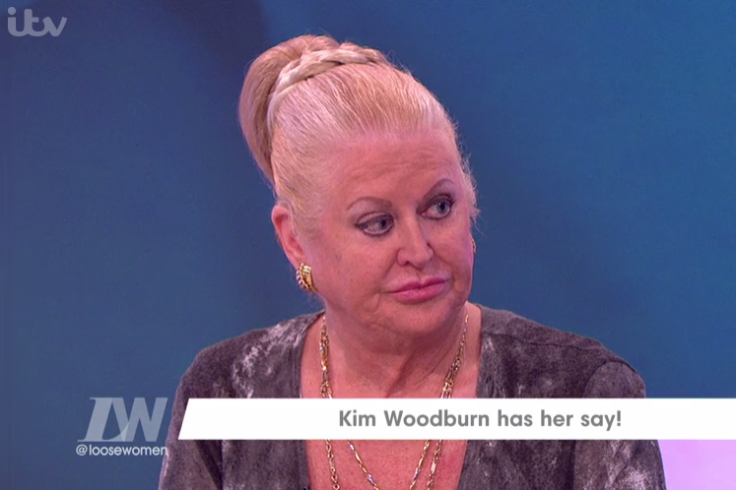 Celebrity Big Brother star Kim Woodburn confessed to being sexually abused by her own father when she was a child on today's (28 February) Loose Women.
The 74-year-old television personality – who caused a stir with her acerbic outbursts in the CBB house earlier this year – opened up about her traumatic childhood on the daytime programme.
Woodburn began talking about her mother, revealing: "Her favourite phrase was, 'If I'd have known what you were going to be like, I'd have sent you back.'
"I don't let it affect my life, but I'll see a parent and child out, and think, 'You're a good mum.'"
In a shocking revelation, the How Clean Is Your House Star divulged she had been abused by her father, adding that he had "touched my naughty bits when he thought he'd get away with it".
She continued: "He physically abused me, and my mum beat me up with carpet brushes. I was very young."
Journalist and Loose Women panellist Janet Street-Porter asked her for more details before Woodburn said: "It was sexual abuse. I didn't tell my mum, I didn't know how."
She added: "And, remember, you didn't discuss sexual things in those days."
The star – who had big clashes on the January 2017 series of CBB with Nicola McLean and James Jordan to name a few, said her childhood trauma turned her into "a very kind person."
Prompting laughs from the audience, she added: "Believe it or not, I'm a soft, silly old fool of a woman. But don't start on me for no reason, or I'll crucify you."
Woodburn caused more controversy on the daytime show by swearing live on television. After Linda Robson asked why we didn't see too much of her softer side on CBB, Woodburn replied: "Because they were all b*****ds!" in reference to her famous housemates.
Andrea McLean jumped in with: "We apologise for the language there." Woodburn hit back at the show's main host, claiming: "No, it's not that rude."
She also dubbed absent Loose Women panellist and former CBB housemate and series winner Coleen Nolan as "a two-faced maggot."
Loose Women viewers took to Twitter in their droves to comment on the interview, with one person tweeting: "What a heart breaking interview from Kim Woodburn on #LooseWomen I really felt for her and can see why she has her guard up in life".
Another added: "Despite her being the victim of sexual abuse when a child & losing her own son when pregnant, I still find Kim Woodburn rather odious..." while a third put: "The Loose Women are desperate to get Kim Woodburn to talk about her childhood abuse and she's batting them away expertly."
Loose Women airs weekdays at 12.30pm on ITV.