Love it or hate it, Mike Bartlett's stage-to-screen adaption of his play King Charles III for BBC2 was nothing but thought-provoking, prompting viewers to express their opinions via social media in their droves on Wednesday night (10 May).
While watching it at the preview last week, questions flooded my brain such as 'Could Harry really give up his royal title?', 'Is Kate Middleton really such a bitch?' and 'I wonder if Diana has ever actually haunted Buckingham Palace...'
But a lingering thought that fails to dwindle since watching the controversial film starring the late Tim Piggott-Smith is: 'Could Kate and Wills seriously force Charles to abdicate?'
In a vitriolic scene I previously compared to the heart-wrenching betrayal in Shakespeare's King Lear between child and father, William stabs Charles in the back and forces him to give up the throne, urging him to hand it over to him and a rather conniving Kate.
Prince Harry gets involved and they corner him like a pack of hounds, telling him that he'll never get to see any of them again if he doesn't abdicate.
Politically-driven Charles – unable to live without seeing his children and grandchildren – reluctantly abandons the one thing he waited his whole life for and experienced so ephemerally. And it's all because he refused to sign a wretched bill for Parliament.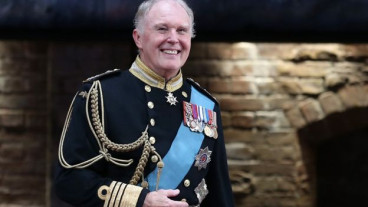 Royal expert Richard Fitzwilliams told IBTimes UK: "The test of a good drama is whether it tells us more about the human condition and provokes thought.
"This asks searching questions about the contemporary monarchy, what role could or should a hereditary king have and could we have an activist as a king? The last sovereign to refuse assent to a bill was Queen Anne in 1708".
On the abdication he said: "It is of course fiction and highly unlikely to happen in reality."
He added: "As King Charles III depicts the living, parts are undoubtedly lacking in taste, the device of using Diana's ghost most particularly so. This play can be seen as a very British tragedy, the royal family will not watch it nor should they."
Another royal writer Phil Dampier added: "Have to say there is no chance [of an abdication] in reality.
"Charles has waited all his life for this job so won't give it up. He might be on the throne for a short time but William is in no hurry to take the job so I don't see him or Kate plotting against him," he added.
If you missed King Charles III, make sure to watch it on catch-up here.