More than half a million people have joined a march against terrorism in Barcelona in a public show of unity.
King Felipe VI lead the peaceful demonstration as protesters walked behind him carrying a banner with the defiant message: "No Tinc Por,"meaning "I am not afraid."
The Spanish city was targeted by Islamic State terrorists on (15 August) in a van attack on Las Ramblas which left 15 people dead and 100 others injured. A woman was also stabbed by a terrorist in a second incident in the seaside resort of Cambrils.
It is the first time that a reigning monarch in Spain has taken part in a public demonstration since 1970.
Prime Minister Mariano Rajoy walked alongside the monarch after calling on the Spanish people to join the march to show that "Catalonia and the rest of Spain [are] united against terror".
Emergency workers, taxi drivers, local residents and shop staff who were the first at the scene of the attack and helped those injured, were at the front of the procession as hundreds of thousands of people filled the streets.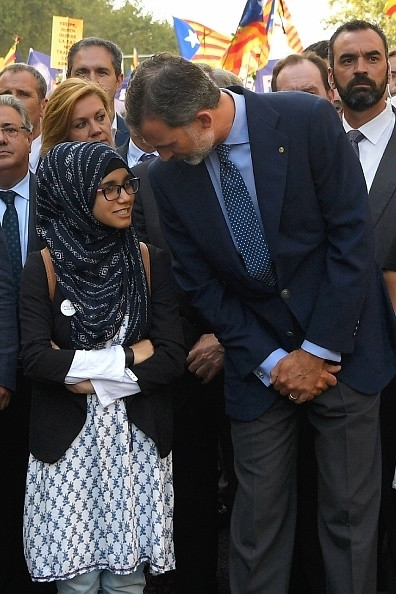 The Spanish royal stopped to talk to a young Muslim girl who walked alongside him as other protesters carried placards denouncing Islamophobia. The King had earlier visited the victims in hospital in the aftermath of the attack, accompanied by his wife Queen Letizia.
King Felipe did however face some opposition during the rally as a handful of demonstrators criticised him for selling arms to countries who support terrorism.
One protester carried a sign in English, saying: "Felipe, people who want peace don't deal in weapons."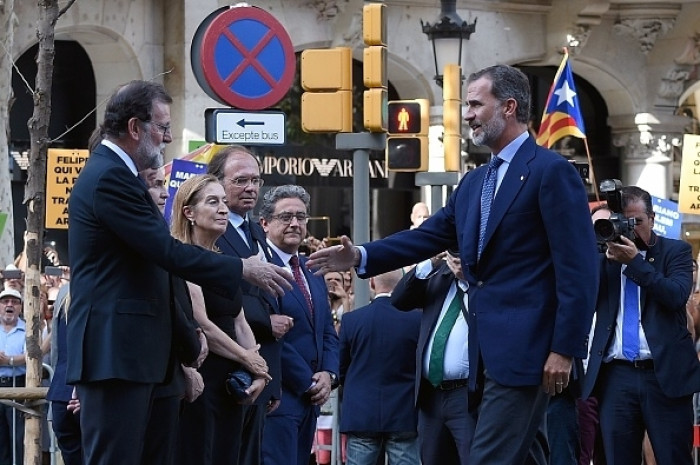 There were no reports of violence during the march with Mossos, the region's police force stating on Twitter: "Today there is only one message and it is the rejection of terrorism. Respect all cultures and let's say #Imnotafraid #NoTincPor."
Police said all 12 members of the terrorist cell believed to be behind the attack are now either dead or in custody. The driver of the van was identified as Younes Abouyaaqoub who managed to escape the scene on foot, triggering a massive manhunt.
He was finally tracked down to a petrol station in Subirats, just outside Barcelona, and was shot dead by police.
The so-called Islamic State claimed responsibility for the attacks in Spain.