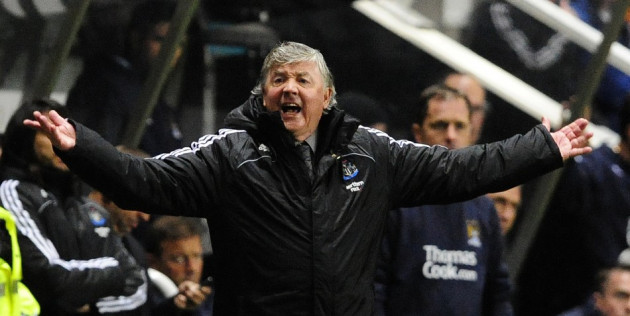 Joe Kinnear, Newcastle United's new director football, has criticised the reaction of supporters towards his appointment at St James' Park.
Kinnear confirmed on Sunday that he was set to return to the north east five years on from his spell as manager, to work alongside current boss Alan Pardew as director of football. The club are yet to confirm the appointment.
The reception to Kinnear's return to Newcastle has been less than auspicious among supporters following the ex-Wimbledon manager's disastrous five-month spell in charge between 2007 and 2008, in which he won just five of his 26 games in charge, the only football position he has held since 2004.
And the 66 year old will not have endeared himself to the Geordie faithful following a shambolic interview with talkSPORT, in which he criticised supporters and drew questions over his credibility for the role after mispronouncing the names of a series of players, as well as managing director Derek Llambias.
"To all the Newcastle fans who don't agree with this decision, shall I bring Llambias back in? I heard that silly comment over what can I attract, I can open the door to any football manger in the world," Kinnear claimed.
"I've spent my whole life picking up the phone to Alex Ferguson. I can pick the phone up at any time of the day and speak to Arsene Wenger; I can pick the phone up and speak to any manager in the league in all divisions.
"I don't know what angle they've got, some just want to sit down and argue with me. Some of them are just talking out of their backside, a load of tosh and I'm not accepting it. I've certainly got more intelligence than them that's for sure."
Amid his scathing attack on fans, Kinnear was keen to also criticise the media, who he accused of brainwashing supporters into believing that his appointment is both inadequate and set to risk the future of Pardew.
Upon announcing his move to Newcastle, Kinnear revealed he would have full control of the club's transfer policy. The ex-Tottenham midfielder has since gone back on that declaration, stating that himself, Pardew and chief scout Graham Carr would make the final decision over summer targets.
"I am meeting Alan for lunch," Kinnear added. " I've spoken to him on the phone and we're having lunch tomorrow to discuss and have a game plan for the upcoming season.
"He's the manager and we'll sit down and discuss it [transfers] - we have Graham Carr up there - he also has a say in it - we'll discuss it. We will look at the strengths and weaknesses between us.
"No one's got an ego. I haven't got an ego. We will all sit down and discuss what's best for Newcastle football club. We'll discuss areas what's desperate - in my opinion we need a striker and I see that as desperate - as my opinion - when I speak with Pards tomorrow he may see some other position that he wants to look better of or get a better player for that area.
"Up front if you look at the goal tally last season- I think we lost our top goal scorer in Demba Ba when he went to Chelsea for £7.5m or something like that - he was the top goal scorer with something about 13 or something like that.
"Then you had somebody like Sissy (Cisse) he was the next goal scorer with something like 8. And then after that there was a big drop into midfield where Cabaye and Hatem Ben Afri [sic] - you know - he got 4 and then Sissoko got 3 - the total wasn't much neither."