Kylie Jenner upset over Tyga's 'mean spirited text message' about her sold out lip kit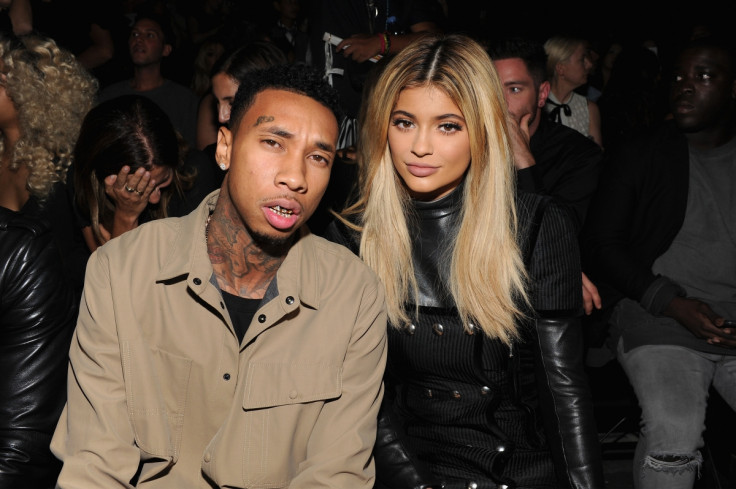 Kylie Jenner is apparently upset that Tyga has questioned her work ethic. The rapper allegedly slammed the 18-year-old and her mother Kris Jenner for not sending out her lip kits to customers.
It was previously reported that Kylie's Lip Kit beauty range was sold out in just seconds after its launch. However, according to TMZ, Kylie and Kris are holding purchased lip kits.
"Kylie was livid Tyga sent her a mean spirited text message, and [she] shared it with all her sisters," a source told Hollywood Life. "She couldn't believe he could be so cruel. Every one of the girls were terribly upset by it, especially Kourt."
"Kourtney thought it was a downright ugly message and told Kylie she doesn't need to be with someone who's not supportive," the insider added. "Kourt's never liked them together and this message, for Kourt at least, is the final nail in the coffin. She told Kylie to break it off with him immediately, and that she could do better — a whole lot better."
"Tyga's shaking his head that Kylie and her family saying he's bad for her brand after he learned that her lip kits haven't made it to customers," the source continued. "He sent Kylie a scathing text that said, 'So I'm bad for your brand but you and your mom ain't sending people their lip kits. Lol. Smh.' To say Tyga's upset is an understatement. He's hurt. She literally blew him off at every turn last week and he hasn't gotten over it. He doesn't know how much fight he's got left in him."
The Keeping Up With The Kardashians star talked about her relationship with Tyga on The Ellen DeGeneres Show. The Oscar host asked: "I don't know. I don't know what's going on all I hear is that you're with Tyga you're not with Tyga?"
Jenner replied: "No. We're not broken up. We just honestly... we became best friends before anything happened so I think that, that's awesome and we're just like. I don't know. Hanging out. Living life. We're still together."
© Copyright IBTimes 2023. All rights reserved.