A Labour councillor for Luton, Aysegul Gurbuz, has been suspended from the political party over allegations that she sent a series of anti-Semitic tweets from her Twitter account. The messages, including one about the Nazi leader Adolf Hitler, which called him the "the greatest man in history", sparked a full investigation into her use of social media, it was reported on Sunday, 10 April.
Gurbuz – who represents the High Town ward in Luton after being elected in May 2015, ran as a potential candidate for Ethnic Minorities councillor at Warwick Students Union, and also sits on a panel supervising Bedfordshire Police – allegedly sent tweets from her account suggesting she strongly supports the Nazi Party's leader and that said that Iran should "use a nuclear weapon to wipe Israel off the face of the earth", according to The Telegraph.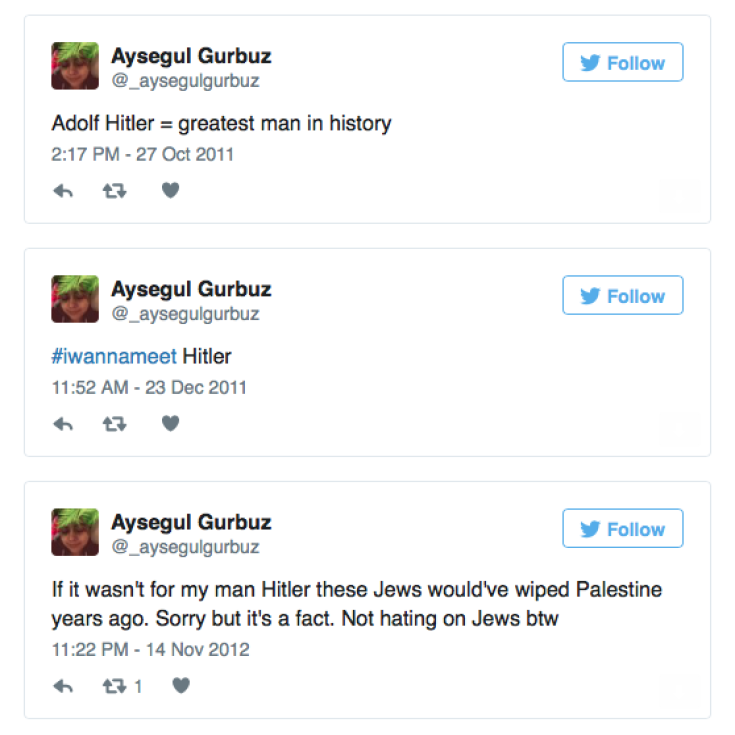 Another previous tweet allegedly read: "Ed Milliband is Jewish. He will never become prime minister of Britain".
The tweets date back from October 2011. The Telegraph's article included screenshots of the messages, allegedly posted by Gurbuz.
Gurbuz's Twitter account is no longer available. IBTimes UK viewed a cached version of her Twitter account's main page, which did not include any of the tweets included by the Telegraph.
The rise of European anti-Semitism
The Campaign Against Antisemitism, writes The Telegraph, reported the matter to the Labour Party, the University of Warwick, the University of Warwick Students' Union and the police. Jonathan Sacerdoti, the campaign's director of communications, said: "Our investigations team found these anti-Semitic tweets on Aysegul Gurbuz's personal account. There is no defence for that.
"The Holocaust was a uniquely dark chapter of our recent history, when more than 6 million Jews were murdered as part of a plan put in place by Adolf Hitler" he continued. "Not only do the tweets glorify Hitler, they also express hope that Iran will wipe out another 6 million Jews in Israel with a nuclear weapon.
"Antisemitism is rising in Europe and in the UK, and the regular revelations of anti-Semitic tweets and opinions emanating from the Labour party even from figures such as Sir Gerald Kaufman MP has failed to elicit any meaningful response from Jeremy Corbyn… How many more cases must we see before the Labour Party takes action"?
Mrs Gurbuz denies writing the tweets and claimed her sister may have posted them, according to The Mail on Sunday.
A Labour spokesman said: "Councillor Gurbuz has been suspended from the Labour Party pending an investigation."
Anti-Semitism scandals
The incident follows a recent spate of anti-Semitism scandals in the Labour Party. In March, Vicki Kirby, vice-chair of the Woking Labour Party and a former Parliamentary candidate for Labour, was suspended after allegedly posting anti-Semitic tweets. And Bradford councillor Khadim Hussainquit the party amid accusations of anti-Semitism, when he apparently shared a Facebook post stating that history books "only tells you about Anne Frank and the six million Zionists that were killed by Hitler".
And on 3 April, Louise Ellman, one of Labour's most senior Jewish members and MP for Liverpool Riverside, said that Labour leader Jeremy Corbyn "had not been enough done to stamp out anti-Semitism in the party", on Sky News' Murnaghan programme.